He might be running around now with boundless joy in his heart, but that did not stop Shahid Kapoor from sending lovey-dovey messages to Katrina Kaif! Or so did the fans wonder! Yes, In fact going by his Twitter account the man who recently become a proud father to a baby boy, professed his love for Katrina Kaif oh-so-openly. The message was clear: I Love You Kat. The heart that followed on Twitter was really unmistakable! before we probe further into this, we realised that the chocolate boy's social accounts have been hacked!
Even his Insta account had some really bizarre messages posted. And just imagine this for a man who has been busy and has taken a week off from his work because he had a baby boy last night. We became even more suspicious with what was on offer on the microblogging site. Soon, even Sasha's fans started feeling that something was really fishy with what was unfolding.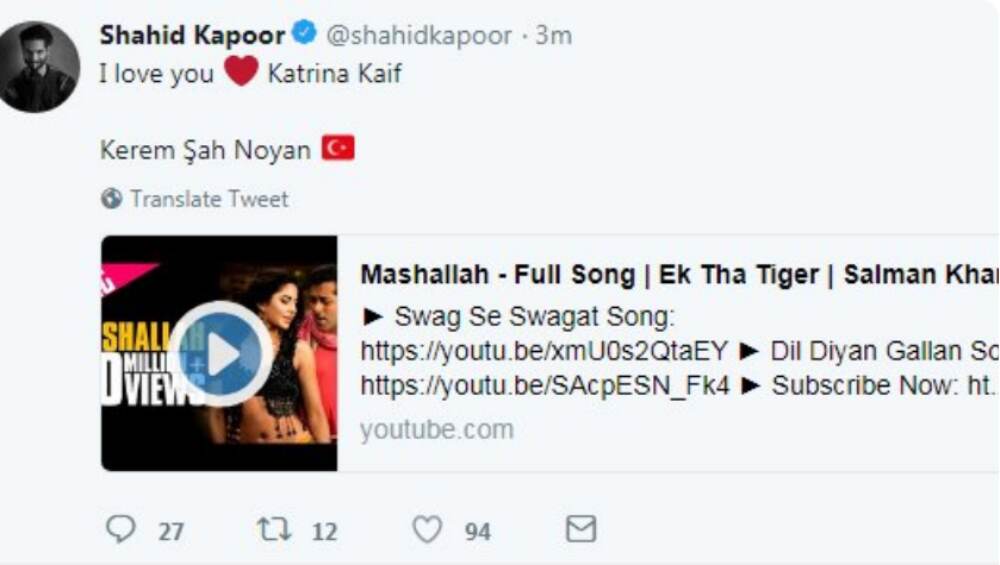 It did not start or ended with some quirky messages alone. Certain things were being dished out in cryptic messages and some really 'bizarre' pictures. The attackers/hackers clearly chose the time and day when they knew that the star will remain occupied to pay any attention to his social media accounts!
We have already told you that we have found out that his accounts have been hacked by a hacker group called Ayyildiz Tim. The group claims itself to be a pro-Pakistani Turkish Cyber Army. We are sure that Sasha will give an official statement on this shocking incident. Till then, his fans will only be puzzled about Sasha' new found love for Kat!Lol!