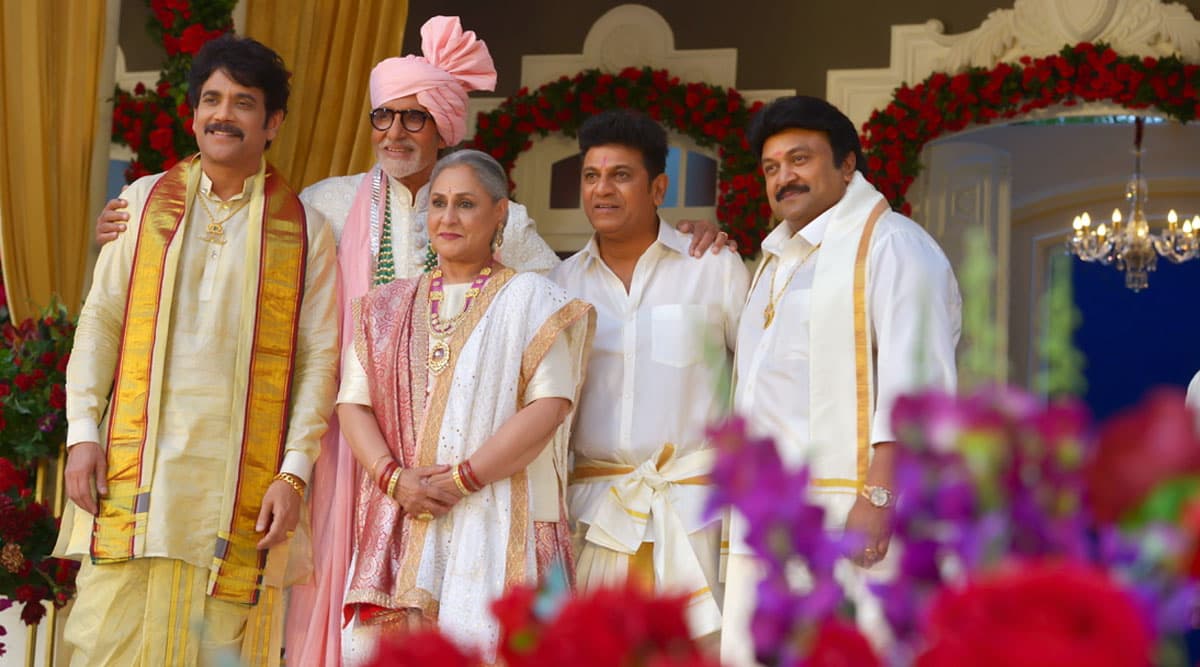 On January 23, Katrina Kaif shared a picture on Instagram, in which she was seen in a bridal avatar. It was understood that Kat was in a bridal ensemble for an ad shoot, however, it comes as a surprise to see that Amitabh Bachchan and Jaya Bachchan are her parents in reel. But there's another priceless moment that Big B has shared on Twitter and that photograph has gone viral across social media platforms. Big B and Jaya Bachchan not only worked with Katrina in this commercial (for a jewellery brand), according to reports this lovely husband-and-wife duo also worked with Nagarjuna Akkineni, Shiv Rajkumar and Prabhu. Katrina Kaif's 'On Set Shenanigans' Prove That She Is the Coolest Bride in B-Town (View Pics).
Amitabh Bachchan has described it as a 'Historic Moment' by sharing the frame with the sons of three legendary icons of Indian Cinema. Nagarjuna Akkineni is the son of Akkineni Nageswara Rao, Shiv Rajkumar is the son of Rajkumar and Prabhu is the son of Sivaji Ganesan. Big B in his blog wrote, "3 super star sons of 3 Legendary, Iconic Father's of the Indian Film Industry". He also mentioned, "all of us working together in one project for a common client". Samantha Akkineni and R Madhavan's Pairing in This Commercial Will Make You Want Them Feature in a Film Soon (Watch Video).
Here's The Pic That Amitabh Bachchan Shared:
T 3419 - - Historic moment for Jaya and me .. 3 superstar sons of 3 Iconic Legends of Indian Film Industry , work together with us .. what honour ..

Nagarjun - son Akkineni Nageshwara Rao, Telugu

Shivraj Kumar - son Dr Raaj Kumar, Kannada

Prabhu - son Shivaji Ganesan, Tamil pic.twitter.com/Plvtd372ZH

— Amitabh Bachchan (@SrBachchan) January 24, 2020
Few More Pics From The Commercial:
@SrBachchan Amitabh Bachchan , Jaya Bachchan Aur #KatrinaKaif

Hai Na Zabardast ! super

Pics shared by Amitabh Bachchan on His official Blog - thank you Amit ji pic.twitter.com/9Ovq3dQYRE

— Moses Sapir (@MosesSapir) January 22, 2020
And Some More...
View this post on Instagram
Amitabh Bachchan wrote in his blog, "what an honour for Jaya and me  .. the respect and the incredible following and presence of these icons of our Industry, is beyond expression .... I had the privilege and the great honour of meeting and spending time with all the three Legends .. I worked in remakes of films of Shivaji Ganesan and Dr Raaj Kumar .. and Nag gave me the honour of being in a project with his legendary Father Akkineni Nageshwara .... but what has been most special is the family bindings that we enjoy with each other - then and now .. so many special moments to describe .. but not enough time to do so now .." After seeing these BTS stills, we just cannot wait to see the commercial. What are your thoughts about these pics? Share your thoughts with us in the comment section below.