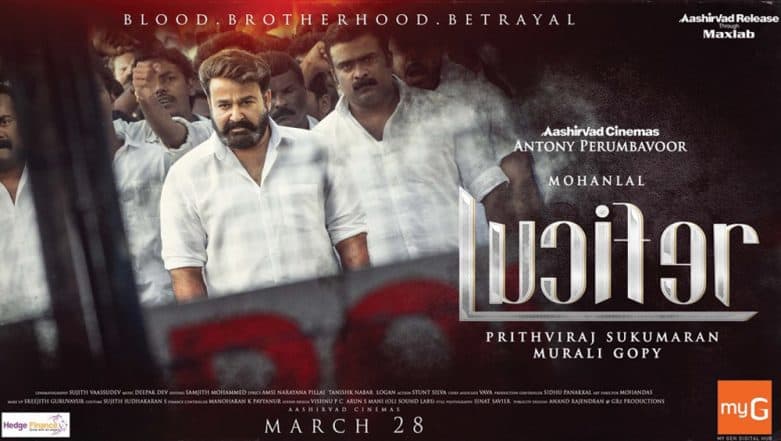 Dashing Malayalam superstar Prithviraj Sukumaran makes his directorial debut with the much anticipated Lucifer. Mohanlal plays the lead in the film that features an ensemble cast in Manju Warrier, Vivek Oberoi, Indrajith Sukumaran, Tovino Thomas, Sachin Khedekar, Kalabhavan Shajohn and Prithviraj himself. The political thriller has been a talk among the Malayalam movie lovers for quite some time, thanks to the talent involved and now it is time to see if that hype is worth it. We are watching Lucifer right now and here's what we have to say about the first half of the film:
"IUF's party head and Kerala's Chief Minister PKR's unexpected demise at the start of the movie is what sets the ball rolling in Lucifer. As the throne lies vacant, there is a scrambling for power among his party members, under the vicious eye of his own son-in-law, Bobby. Bobby wants to bring more money into the party through drug operations, but there is only one man who stands in his way, PKR's foster son Stephen Nedumpally. The game of thrones soon become dirtier as Bobby looks to play dirty and get Stephen implicated in a scandal, while Stephen is keeping his cards close to his chest. Lucifer New Poster: Prithviraj Sukumaran Surprises Malayalam Movie Lovers; Reveals His Own Look in Mohanlal's Thriller – View Pic.
The first half of Lucifer spends time in setting the premise and getting us to know most of the main players in the game. Murali Gopy's screenplay takes a dig at some of the current affairs in the country, like corporatisation of politics to the corruption of media. However, he crams a bit too much as Lucifer moves at a languid pace. Some mass scenes involving Mohanlal are whistle-worthy. Prithviraj's direction is fine, considering this is his first stint behind the camera. The way he handles the crowd scenes in the beginning has to be lauded. The interval point arrives when the antagonists seems to have an upper hand over the hero and with the arrival of another main character. Looking forward to see if the second half can up the ante when it comes to its pace and storytelling."