Actress Revathy Sampath left everyone stunned by making some major revelation about Malayalam actor-producer Siddique. Two days ago she posted on Facebook that Siddique tried to 'sexually misbehave' with her, who was 21 then. In an interview to a leading news portal, the actress revealed how social media users are now hurling abuses at her and also stating that it is a publicity stunt by her. Malayalam Star Siddique Accused of Sexual Misconduct by Actress Revathy Sampath in Her Facebook Post.
Revathy Sampath's Facebook post on Siddique has created and many of them have also posed a question why did she not talk about it back in 2016 (when the incident happened) and why now. There are also few who have said if she's being honest about it then go and lodge a police complaint than just posting the issue on the social media giant. Talking about such negative response from followers the actress told TNM, "The comments are accusing me of trying to become famous by posting such allegations. I don't understand how fame comes into the picture. Another question I have been asked is why I had taken so long to reveal this. It is not easy to open up. Even when I had posted about the harassment I faced from director Rajesh Touchriver earlier, I found it difficult to open up about Siddique." #MeToo in Mollywood: Actor Siddique Calls WCC's Stand on Dileep a Conspiracy Against Mohanlal.
The comments posted on Revathy Sampath's post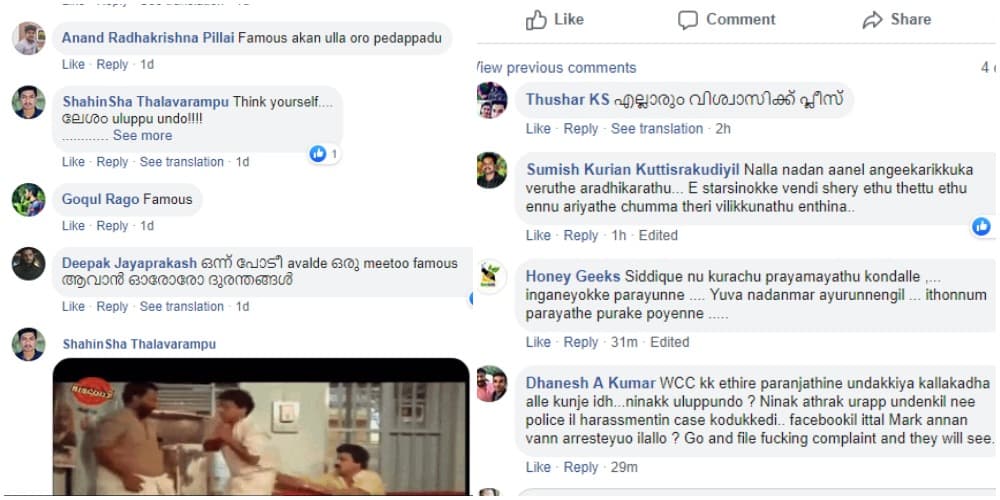 In the interview Revathy Sampath also mentioned how Siddique asked her if she was ready for 'adjustments'. Actor Siddique has not commented anything yet about this issue. Stay tuned for further updates.