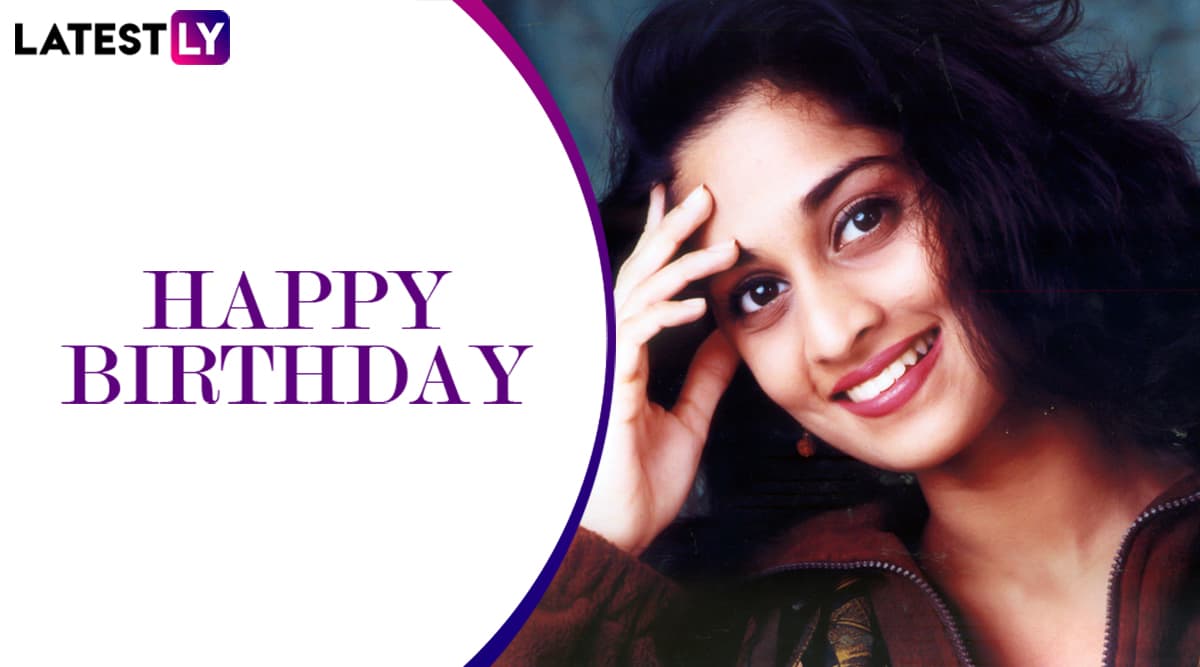 Shalini is a popular actress in the Malayalam film industry. She has also worked in numerous Tamil films. The South beauty made her acting debut at a very young age, hence she was widely known as Baby Shalini. From her charming looks to her impeccable acting skills, Shalini won the hearts of many. Shalini has turned a year older today and fans of the actress are sharing memories of their favourite films and songs that featured her. "Aniyathipraavinu", "Kadhal Sadugudu" are some of the hit tracks and we bet, every 90s would love to play those songs in a loop. Ajith-Shalini Skip Queue at the Polling Booth While Casting Vote for Lok Sabha Elections 2019; Embarrassing Situation Ensues for the Couple (Watch Video).
Shalini was born to Babu and Alice on November 20, 1979, a Christian family. She made her acting debut in 1983 with Malayalam movie Ente Mamattikkuttiyammakku for which she even won the Kerala State Film Award for Best Child Artist. Shalini has delivered many hit films in her acting career. It was on the sets of Amarkalam she met Tamil superstar Ajith Kumar aka Thala Ajith, and since then they started dating. Ajith proposed Shalini in 1999 and in a year later they tied the knot in a grand ceremony in Chennai. The wedding ceremony took place in both Hindu and Christian rites. It was after getting hitched that Shalini decided to retire from movies. Although Shalini quit films, she is still remembered for her outstanding work in the world of cinema. 5 Things You Probably Didn't Know about Thala Ajith.
Kilukkaam Petti Song From Koottinilamkili – 1984
Shalini who was back then known as Baby Shalini played the character Nandinikutty in this movie. Directed by Sajan, this flick featured Sukumari, Mammootty, Adoor Bhasi and Maniyanpilla Raju in the lead.
Watch The Video Of Kilukkaam Petti Below:
"Kilukkaam Petti" shows how Nandinikutty and her grandfather loved spending time with each other. Wasn't Shalini amazing even as a child artiste?
Aniyathipraavnu Song From Aniyathipraavu – 1997
The film Aniyathipraavu directed by Fazil turned out to be the highest-grossing Malayalam film ever. It was a tale of Sudhish (Kunchacko Boban) and Mini (Shalini), who fall in love with each other despite being belonging to two different communities.
Watch The Video Of Aniyathipraavnu Below:
The track "Aniyathipraavinu" sung by KS Chithra showed Mini's friendly equation with her brothers (Janardanan, Cochin Hanifa, Shajin) and how much she loved all her family members.
Manikuttikkurumbulla Song From Kaliyoonjal – 1997
Kaliyoonjal starred Mammootty, Shobana, Dileep and Shalini in the lead. In this movie Shalini plays the character Ammu, who suffers from epilepsy. She is raised by her brother Nandagopal (Mammootty) after their parents' death.
Watch The Video Of Manikuttikkurumbulla Song Below:
This song "Manikuttikkurumbulla" sung by KJ Yesudas highlights the strong, endearing bond that this brother-sister duo share. It shows how Nanda is protective about his sister and will do anything and everything to bring a smile on his sister's face.
Kaaveri Theerathe Song From Kaikudunna Nilavu – 1998
Jayaram, Dileep, Ranjitha and Shalini played the lead roles in the film Kaikudunna Nilavu. The film was later remade in Tamil with the title Nilave Unakkaga.
Watch The Video Of Kaaveri Theerathe Below:
This female version of the song "Kaaveri Theerathe" was sung by KS Chithra. It was a simple, melodious track that showed the romantic chemistry of Dileep and Shalini.
Unnodu Vaazha Song From Amarkalam – 1999
It was during the shooting of this movie, Amarkalam, that Shalini and Ajith Kumar started seeing each other. When director Sara had approached her for this film, she had initially rejected the offer as she was studying. But three-months later, Shalini finally agreed to do the film.
Watch The Video Of Unnodu Vaazha Below:
Amarkalam is a romantic drama that shows how a hooligan like Vasu and Mohana (daughter of a police officer) fall for each other. The song "Unnodu Vaazha" shows the adorable chemistry of the duo.
Prayam Nammil Song From Niram – 1999
Niram was another hit film that revolved around two youngsters, Aby (Kunchacko Boban) and Sona (Shalini), who are family friends. The duo was often referred as Siamese twins by their college pals.
Watch The Video Of Prayam Nammil Below:
Prakash Mathew (the character played by Boban Alummoodan) is seen singing the song "Prayam Nammil" during their college fest. But things take a turn when his song notes flies in the air and ends up with his crush, Sona.
Kadhal Sadugudu From Alaipayuthey – 2002
Alaipayuthey featured R Madhavan and Shalini in the lead (this romantic drama was later remade as Saathiya in Hindi). This Tamil film was a Mani Ratnam directorial and it was a blockbuster.
Watch The Video Of Kadhal Sadugudu Below:
The song "Kadhal Sadugudu" is the one titled "Aye Udi Udi Udi" in the Hindi version. It shows how the young couple who marry against the wishes of their families are getting set to begin a new life. A couple who are hoping that love will do the trick, but there was something else in store for them.
Shalini has given memorable films to the audience in her acting career. We definitely miss watching her on the big screen. Here's wishing the gorgeous actress all the love and luck. Happy Birthday, Shalini!