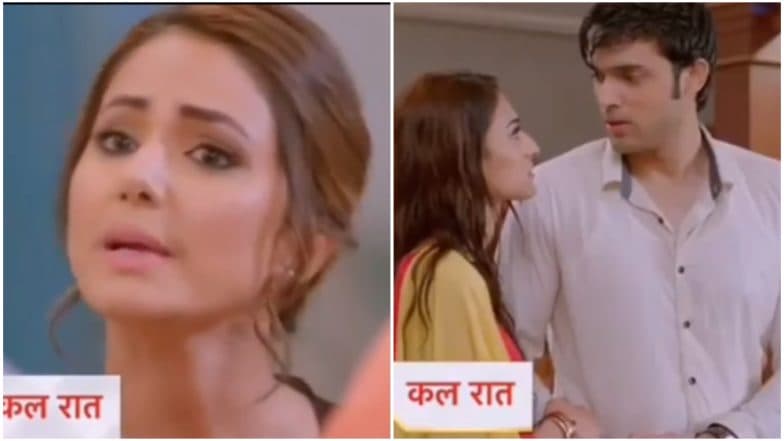 Tonight's episode of Kasautii Zindagii  Kay 2 starts with Anurag (Parth Samthaan) going to drop Prerna (Erica Fernandes) in his car. Prerna flashbacks what all happen and feels sad. Suddenly Anurag pinches her and tells her to talk as he is feeling bored and tells her to talk with him and teases her saying is she thinking about Naveen. Prerna tells Anurag that he has only one topic of Naveen which he goes on repeating again and again. Prerna gets angry and tells Anurag to stop the car so that she will get down. Anurag stops the car, Prerna stops an auto and goes. Kasautii Zindagii Kay 2 February 11, 2019 Written Update full episode: A Jealous Komolika Poisons Mohini's Mind Against Prerna and Vows to Separate Her From Anurag!
There Mishka seeing Komolika (Hina Khan) coming tries to go out but she stops her and asks what is the reason. Komolika tells Mishka that she is behind a relation which is only for namesake and tells her that she wants to tell her one good news and narrates what all she did in the Basu house. Mishka is shocked and tells if something would have happened to Mohini then, Komolika says this is the problem with people like her and calls her an emotional fool. Komolika tells Mishka which Mohini she is talking about and that did she called her once to enquire what happened between her and Anurag. Mishka says what would Mohini say as she liked her but it was Anurag who changed his mind and had a liking for Prerna. Komolika says this is what she wants Mishka to understand and tells her now see how Mohini will take stand for her and how Mohini will do Komolika's and Anurag's marriage. Mishka tells her that how can she think that Mohini will make Komolika her daughter-in-law and that Mohini loves Anurag very much and she will do anything for his happiness. Komolika says that she also knows that Mohini loves Anurag but the double times she hates Prerna and she will not let Anurag marry Prerna. Mishka gets upset and tells Komolika to not talk about this to her as she might hate her for doing all this. Kasautii Zindagii Kay 2 SPOILER ALERT: Anurag Announces His Marriage With Komolika; Watch Video
There Moloy takes Rajesh to Komolika's place and tells him that Komolika is a very bad lady and that she tried to trap Prerna. Rajesh is shocked hearing this. There Anurag is in his car following Prerna who is in the auto and stops her seeing that her dupatta would come under the tyre and shouts her for her carelessness. Prerna says her house has come, Anurag calls out to Prerna and tells her sorry and that he cares for her that is why he cannot see her in trouble and cannot see her going away from him. Prerna questions him how he loved her? and when did he fell in love with her?. Anurag answers saying that something is there in her that he thinks about her all the time and his eyes search for her everywhere and tell that he loves her so much that he cannot leave without her and is afraid if something will happen to her. Anurag says that if any problems come, he will be with her all the time (mere yaadon mein basey ho tum sirf track is played in the background) Suddenly it starts raining.
Moloy and Rajesh reach Komolika's house and ring the bell.  Komolika sees Moloy and asks how come he is there, Moloy slaps her. There Anurag and Prerna are doing a romantic dance in rain with each other (in wadiyon mein takra chukey hai, kafilay sah hai track is played in the background). Anurag and Prerna hug each other just then Veena comes and sees them together and gets angry and slaps Prerna. Veena takes Prerna inside.
Meanwhile, Komolika gets wild but asks politely why Moloy slapped her. Moloy tells till today in his life he has only slapped two people, one is Naveen and the other is her. Komolika says that Moloy is a very calm and patient time of a person and if he has done like this means there must be some reason and asks what is it and tells maybe he had some misunderstanding regarding her. Moloy tells Komolika that he slapped her as she tried to play with Mohini's life because she wanted to make Prerna look like a culprit. Komolika is shocked and says that Prerna is telling lies and that she did not do anything. Moloy tells him that he knows everything as he saw in the CCTV footage that she has put something in halwa and shows her the video and tells now also she will say she has not done it. Rajesh reveals to Moloy that Komolika is Ronit's sister who tried to destroy Shivani's life and says all the family is the same troubling others. Listening all this Komolika gets irritated and tells that this topic they can talk later and tries to make Moloy understand that she is not responsible for all this. Komolika tells Moloy that she did this all to get Anurag, Moloy and Rajesh are shocked to hear it.
In the precap, Veena is shouting at Prerna and Anurag trying to make Veena understand that he loves Prerna.