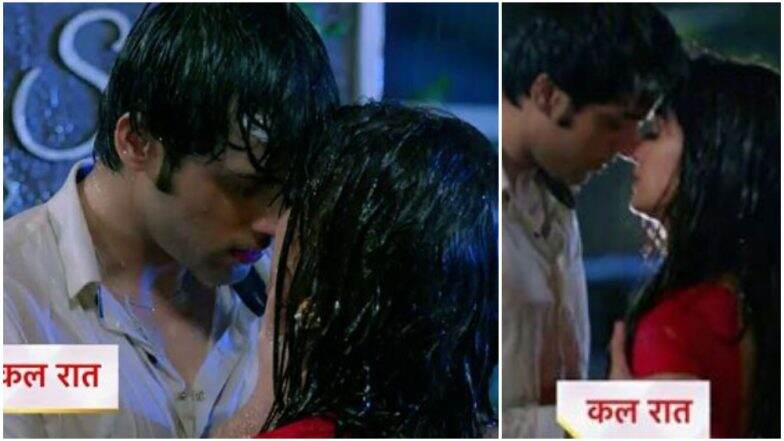 Tonight's episode of Kasautii Zindagii Kay 2 starts with Prerna (Erica Fernandes) running out of the house and crying, Anurag (Parth Samthaan) comes and gives his handkerchief. Prerna tells Anurag that she has done nothing, Anurag says that he knows that and tell asks her does she loves her family. Prerna tells what type of question is this and says of course she loves. Anurag says here the situation is same whatever happened and whatever Nivedita told was out of emotion and when it is the matter of family especially of mother and father people get little emotional and response and tells Prerna that she knows how Nivedita's mood is and that she will soon realize her mistake. Anurag continues and says this is the same way how she said yes to Naveen for marriage as he told that he will become a son to her family and support them. Anurag tells Prerna that she should have asked him and that he would have become their family's son and support her but she has chosen Naveen and makes fun of her. Anurag wipes Prerna's tear with his handkerchief (tum hu paas kah du na track is played in the background). Anurag tells Prerna to smile, Komolika watches them and tells that she has to make Prerna understand what she has done wrong. Prerna leaves. Komolika gets wild and goes upstairs. Kasautii Zindagii Kay 2 SPOILER ALERT: Anurag and Prerna to Consummate Their Marriage; Watch Video
There Veena is upset and thinking about something. Suman is making tea for Mahesh and asks if Veena wants it. Veena comes and hugs her and tells that she has scolded her a lot and says sorry for that. Veena tells that they love her the same as they love Prerna and Shivani. Veena tells Suman to forgive her.
Komolika comes into Mohini's room and knocks the door. Mohini tells her to come in. Komolika says that she is feeling very scared and lonely as her mother passed away when she was just a kid and that she was very lonely from then, and that she misses her mother. Komolika tells that she was very afraid thinking if anything happened to Mohini. Mohini asks her why she cares for her so much. Komolika says that for the first time she felt that her mother is around when she sees Mohini. Komolika tells that now that Mishka and Anurag won't be together and stops and says sorry but Mohini says that she also feels the same way. Komolika tells whether Anurag and Mishka are together or apart she does not care as till Mohini is with her she is happy and tells that she will be in touch with Mohini forever and says she loves her and tells her to love her like her daughter. Komolika tells Mohini what Prerna has done she thinks was purposely and not by mistake. Mohini says she agrees with her as Rajesh has got heart problem and she might have got to know that Mohini also has this problem so Prerna did this all. Moloy hears that Komolika is saying to Mohini that Prerna did this all purposely and does not know what problem she has with her or maybe she is afraid that her future plan may get spoilt because of Mohini. While Komolika is telling all this Mohini sees Moloy and calls him inside. Moloy comes and gives her the juice and goes from there. Moloy thinks that they have to stop Komolika as she will poison everyone's mind against Prerna and goes from there.  Kasautii Zindagii Kay 2 Actress Hina Khan Looks Like a Vision in White in Her Latest Instagram Pictures
Mohini tells Komolika that when she is better she will think of how to tackle Prerna but she tells Komolika that she wants to ask her a question and asks her to tell the truth and does she has feelings for Anurag. Komolika smiles and feels shy. Seeing this Mohini says that she understood that Komolika has feelings for Anurag. Komolika says that seeing all this she could make out that Anurag is very sensitive and very caring and emotional and respects all ladies and this quality of Anurag she likes. Mohini holds Komolika's hands and tells she will make everything proper. Komolika wishes her a speedy recovery and hugs her.
Nivedita is scolding her maid and asking where her diamond bracelet is and that till today nothing had been stolen from the house and that she is the only one who is new and tells her to tell the truth. Anupam comes and tells her to calm down. Moloy comes and asks what the matter is, Nivedita tells him that the maid has taken her bracelet when she was in the kitchen and tells to check her. Moloy tells that these people work for us, they help us and tells her not to talk like that with them. Nivedita gets angry and goes from there. Moloy tells the maid to calm down and look for the bracelet. Anupam tells Moloy that he has taken a very difficult task as till she gets same to the same bracelet Nivedita would not be cooled down. Moloy tells that he will not bring the new one and tells that he has put CCTV in all the rooms and tells Anupam to let us check it and we will come to know about it.
In the jail, Naveen is standing near the gate, one of the goons ask him why is he standing there. Naveen says that he is waiting for someone and that she will definitely come and sees Prerna and tells that she has come and calls her out. Naveen sees Anurag with Prerna and gets frustrated and angry. Anurag comes to Naveen and tells hello to him and smiles, seeing Prerna Naveen says till she was with him Prerna was very happy and now she is so scared with Anurag. Anurag says that he is right she is scared for him and not because of him. Anurag tells that she cares for him and she loves him. Naveen tells that the day he comes out he will first kill Anurag. Prerna challenges Naveen and tells him not even to think about it. The police officer calls them to take the paper, Anurag takes the paper and they both leave from there.
Moloy tells his staff to take out the footage and he watches it one by one. Suddenly Moloy sees in the kitchen Komolika is putting something in halwa prepared by Prerna for Mohini. Moloy thinks just because she does not like Prerna she did this all and is shocked.
In the precap, Moloy goes and slaps Komolika and tells her that he knows what she has done. There Veena sees Anurag and Prerna in each other's arms and slaps Prerna.