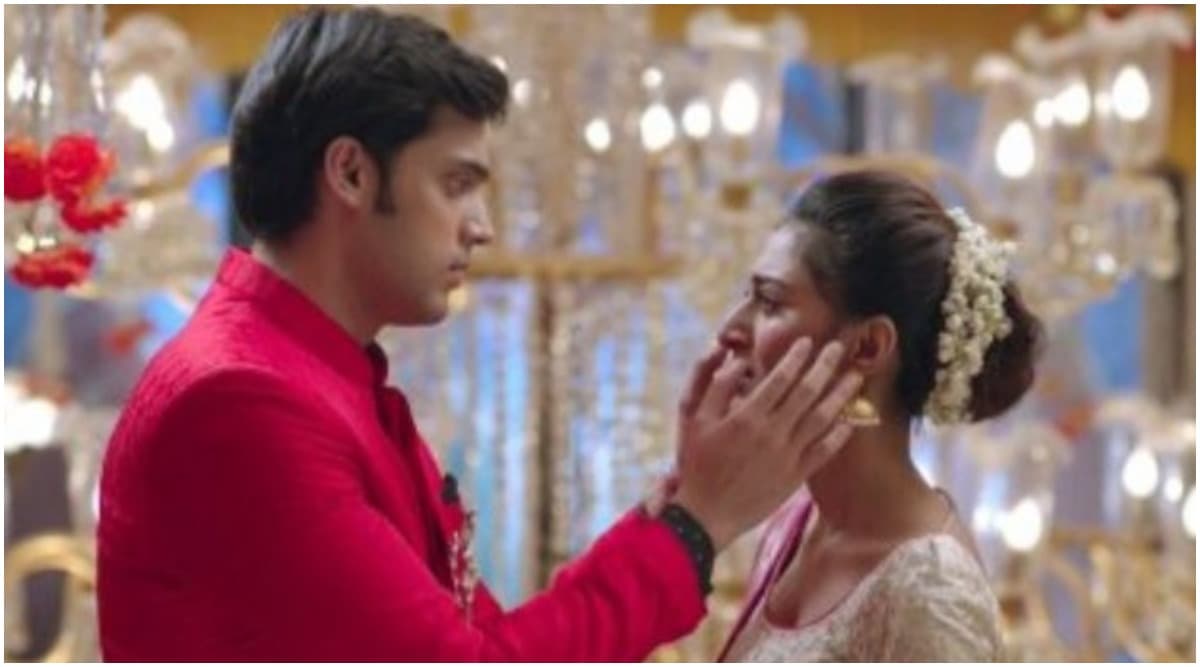 In yesterday's episode of Kasautii Zindagii Kay 2, Sonalika slaps Ronit when she comes to know that the goons have kidnapped Shivani in place of Prerna. Anurag chases Ronit when he comes to know that he has abducted Prerna. In tonight's episode, we see Sonalika (Aamna Sharif) tells Ronit to kill Prerna. Ronit tells Sonalika he cannot stop his van and kill Prerna (Erica Fernandes) as Anurag (Parth Samthaan) is following him. Sonalika is shocked to see Viraj at the door and hangs the phone. Sonalika tells Viraj that she was telling the cook to kill the fish as Mohini wanted to eat fish curry today. Viraj tells Sonalika he just came to inform her that Anurag has gone behind the goons. Viraj asks Sonalika to give some medicine as Veena's B.P. has gone down. Sonalika tells Viraj she will send the medicine with the house help and tells him to go down. Kasautii Zindagii Kay 2 January 17, 2020 Written Update Full Episode: Sonalika and Ronit Come Up With A New Plan to Separate Anurag and Prerna.
Shivani comes and asks Sonalika why has she kidnapped Prerna. Sonalika thinks she has to keep quiet now as Shivani will create a scene in front of all. Sonalika tells she did not kidnap Prerna. Sonalika tells her she is not a fool to do such a thing. Sonalika tells may be Viraj did this as he wants to spend some time with Prerna. Shivani does not believe her words.
Anurag follows Ronit's van. Ronit fools Anurag and changes the path and escapes in the dark. Ronit calls Jagga who is his friend and asks him to help him out. They together put Prerna in another car and take Prerna with them. When Anurag spots the van he stops it and checks in but could not find Prerna inside and wonder where is she gone.
Anurag goes to the Police station and lodges a missing complaint of Prerna. The Police enquire about the whereabouts of Prerna. Anurag tells them about the van in which the goons kidnapped Prerna and give them the Van number. The Police tell Anurag they will investigate and get back to him. Anurag is irritated as he could not save Prerna from the goons.
Ronit tells the goons that before Prerna gets consciousness they should reach the destination as she will create a scene. Prerna hears them talk and thinks she should leave clues behind. Prerna takes her anklet and drops it on the way and hopes that Anurag sees this and comes to rescue her. Kasautii Zindagii Kay 2 January 16, 2020 Written Update Full Episode: An Intoxicated Prerna Confesses Her Feelings to Anurag, Ronit Tries To Escape.
Moloy calls the Commissioner of Police and informs about the kidnapping of Prerna and requests him to help. Mohini tells Moloy that all the guests have left and Veena and her family should also leave the house.  Viraj is shocked by seeing Mohini's behavior. Mohini blames Prerna and her family for spoiling her party. Nivedita also takes her side and tells that every time their happiness is ruined because of Prerna. Moloy gets furious and chides Mohini and Nivedita and warns them to be in their limit. Veena gets emotional thinking about Prerna. Sonalika comes and consoles Veena as she wants to be in the good books of all and she cannot show openly that she hates Prerna and her family.
Anurag thinks he has to find Prerna before the Police. The goons tell Prerna that they will not kill her but the person who told them to kidnap her will kill her. Prerna asks who is the person and requests them to leave her. Anurag reaches the Basu house and tells them that he had lodged a complaint in the Police station. Anurag promises  Veena that he will bring Prerna and her unborn child home safely and tells her not to worry. In the precap, Sonalika tells the goons to kill Prerna. Anurag comes to save Prerna.