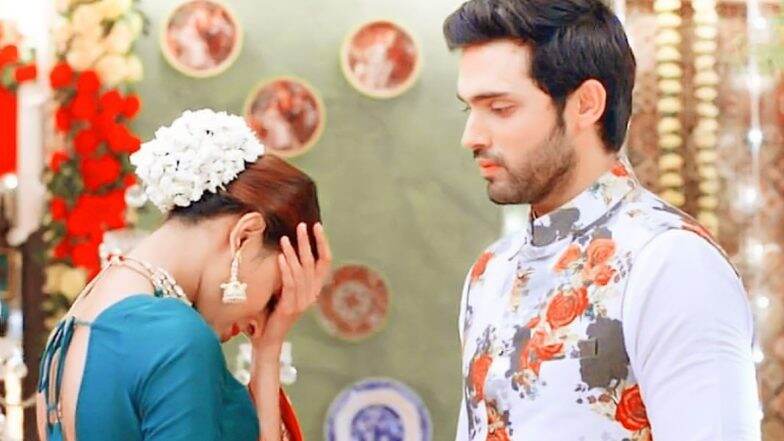 In yesterday's episode of Kasautii Zindagii Kay 2 we saw Mr. Bajaj executes a cunning plan to create a rift between Anurag and Prerna. Later, Anurag feels jealous when he spots her taking care of Mr. Bajaj. Tonight's episode starts with Prerna (Erica Fernandes) tells Bajaj (Karan Singh Grover) that for the love she did everything that same love stole everything from her. Just then Anurag (Parth Samthaan) comes there and see Prerna upset. Bajaj sees Anurag and holds Prerna and calms her down, Anurag feels jealous. Later, Bajaj holds Prerna's hand and tells that she should not worry and this is the last chance for Anurag and after this, if he does anything wrong then he will himself be responsible for the consequences. Prerna leaves. Kasautii Zindagii Kay 2 October 9, 2019 Written Update Full Episode: Anurag Gets Jealous of Prerna's Closeness to Mr Bajaj
Later, Anurag comes near Bajaj and asks is he playing a new game, Bajaj ignores him and goes. Anurag thinks Bajaj is planning something behind him and wonders what. On the other side, Prerna thinks what all Bajaj told her and gets afraid for Anurag. Just then Anurag comes there and asks why is she upset. Prerna confronts Anurag and asks why is he doing this and why did he hire the goons to kill Mr. Bajaj. Anurag is shocked to hear this and asks does she thinks he can do such a thing.
Prerna says earlier also he did similar things and says she herself heard the goon telling his name that is why she came to know the truth. Prerna says he was not like these earlier and why has he changed so much. Anurag says he just wants her to come back in her life but with love and not by hurting Bajaj. Prerna says she does not know what is good or bad but he is going on the wrong path. Later, Anupam comes and asks what is going on. Prerna says she is disappointed with him as she thought he is sensible and will make Anurag understand. Kasautii Zindagii Kay 2: Aamna Sharif Replaces Hina Khan as Komolika!
Anupam berates Prerna and says he also is angry with her as what is she doing and can't she see how much Anurag is in love with her, Anurag tries to stop Anupam, but he asks Prerna why she left Anurag in the middle of their marriage. Later, Anurag says this is his and Prerna's talk and he should stay away from it and pushes him aside. Anupam gets hurt and tells Prerna to see what she has done to Anurag as he has changed so much because of her. Prerna tells she has a reason behind doing this all. Kasautii Zindagii Kay 2: Aamna Sharif's First Glimpse As Komolika Is Here and It Will Give You Goosebumps (Watch Video)
Prerna berates Anurag to stop his madness as she is married now. Anurag says he will stop if she wants but she should not talk like this. Prerna tells Bajaj did not put him behind bars as he wanted to protect him and she will not tell why and leaves. Later, Prerna remanence about Anurag and gets emotional and cries (beege raina sara ham track is played in the background), just then Bajaj comes and asks did she talk with Anurag and tells whenever she talks with him she hurts herself and nothing else. On the other side, in the hospital Komolika's plastic surgery is going on after a shark attack her, she was saved by the doctors who changed her face. In the precap, Anurag tells Prerna in front of Bajaj that he will find out the truth and prove himself innocent.