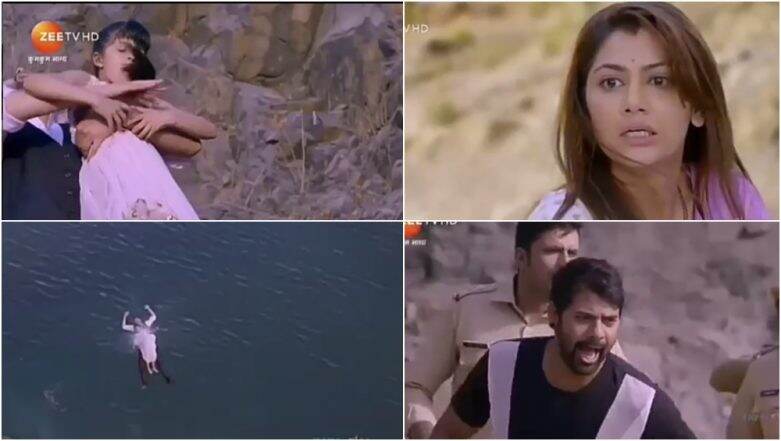 Today's episode of Kumkum Bhagya starts with King and Pragya (Sriti Jha) going in the car following Nikhil. King says he will not leave him and asks from where Nikhil came? Pragya says because of Tanu. King says that means because of Abhi (Shabir Ahluwalia). Pragya gets manipulated by him. Kiara calls Pragya and Abhi. Nikhil's car gets stopped near the lake. Nikhil thinks one side is Police and another side is Abhi. Abhi reaches there. Nikhil thinks to go near the bridge and thinks nobody can catch me there. Abhi and Police reach there. Nikhil lifts Kiara and starts running and climbing the mountain. Kiara shouts daddy. Abhi asks Nikhil to leave Kiara and says there is a lake there. Nikhil keeps the knife on Kiara's neck. Abhi asks him to move the knife from her neck. Pragya and King also reach there. Pragya tells King that Police is climbing the cliff, we shall go there, Kiara must be there. Abhi asks Nikhil to let her go and says your enmity is with me. Nikhil says real men don't talk and says now it is action time. Kiara says she is getting afraid. Abhi says you are a brave girl. Kumkum Bhagya March 12, 2019 Written Update Full Episode: Nikhil Threatens to Hurt Kiara after Abhi and Pragya Fail to Save Their Daughter
Abhi says he didn't ruin him and will give him money and everything. Abhi pleads in front of him and asks him to leave his daughter. King and Pragya reach there. Pragya shouts seeing Kiara. Ashish and other Police reach there. Nikhil says you are rich but don't want to give any money for your daughter. Pragya apologizes to him and asks him to leave Kiara. Nikhil threatens to throw Kiara in water. Inspector threatens to shoot Nikhil.
Abhi takes the gun from Inspector, Ashish asks Abhi to give the gun and says he will handle the situation. Pragya asks Abhi to leave the gun and tries to snatch it. Nikhil loses balance and falls from the cliff in the valley with Kiara. Kiara shouts Daddy, Pragya faints. Abhi shouts standing there. Aaliya, Disha and Purab reach there. Divers come and tell that they got Kiara's shoes. Abhi takes the shoe and cries. Purab asks Aaliya to take Pragya from there. Aaliya and Disha take Pragya from there in the car. The Doctor checks Pragya in the car and says she is fine, but she needs rest. Disha tells Abhi that she needs to tell him something important. Kumkum Bhagya Leap: Not Kirtida Mistry But Mugdha Chaphekar Bags The Shabbir Ahluwalia-Sriti Jha Starrer!
Pragya gains consciousness in the house and shouts Kiara. Pragya says God gave me Kiara, but my husband snatched her. Abhi talks to someone on the phone and says he needs just his daughter. He looks at her chain and recalls her telling that she will give her chain to her little sister. Abhi hugs Pragya and cries. Pragya says he is responsible for this. Pragya says everyone saw and says you don't need Kiara, but your ego. She says Nikhil threatened to kill Kiara, then also you were moving to the front. She says you wanted to satisfy your ego and holds him responsible for her death. Abhi says she was my daughter.
Pragya says she gave her birth and says you don't know the pain of losing a daughter. She regrets coming to India and returning to his house. Pragya says she should have agreed with destiny and knew that you are not a good father. Abhi says Kiara is not with us, because of her. Abhi says he accepts that his decision not to give money was wrong, but she was responsible. Pragya gets angry. Abhi says she made Kiara far from him. He holds her responsible again. King, Aaliya, Disha, and others look shocked.
In the precap, Abhi tells King that he came to know that he is cheaper than Nikhil and took revenge from them. Pragya asks King if he betrayed Kiara. King agrees. Pragya slaps him