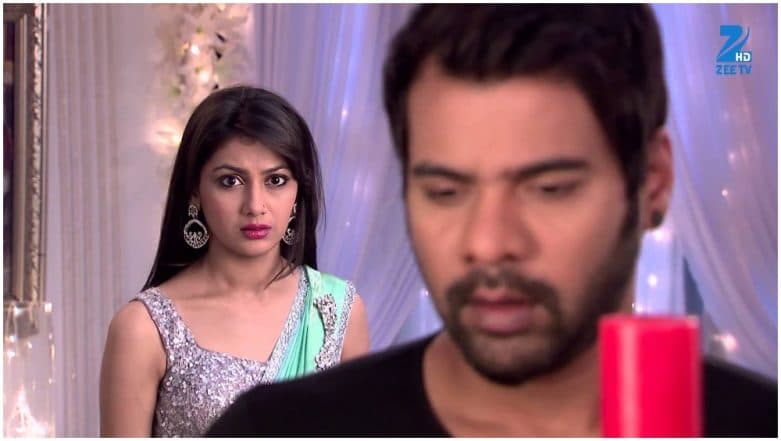 Today's episode of Kumkum Bhagya starts with Shetty still critical in the hospital. Disha says he has to gain consciousness and tell us about Kiara and says don't know how is she and cries hugging Purab. Purab asks her to have the strength and tells that they will get Kiara. Everyone is praying at home. Aaliya asks Servant about what is happening. The servant says Daadi kept Mata khi chowki for Kiara. Aaliya says Kiara will not be found like this. Sunny holds her hand and says if we all pray then God will send Kiara home. Aaliya gets emotional and nods her head. She sits for Mata ki chowki (Jai Ambe Maa track is played in the background). Kumkum Bhagya March 11, 2019 Written Update Full Episode: Abhi and Pragya Almost Reach Kiara, but Nikhil Outsmarts Them
Meanwhile, Kiara thinks how to elope from there. Goons hear the noise when her chair gets pulled. Kiara pretends to be sleeping. Goons go out to check. Kiara writes something on the chair and runs out from the kidnappers' place and comes in the Jungle area. She manages to come to the road and asks God to help her. She calls Pragya. Pragya (Sriti Jha) picks the call, Kiara says mamma, but they don't hear each other. Pragya throws her phone on the floor. Kiara sits on the road and cries. Pragya asks God to bring her back.
Kiara tells herself that she can't cry and have to become like her Papa. He calls Pragya again. Pragya picks the call and asks where is she? Kiara says she is on the road alone. Goons come back and saw Kiara eloped. They say what we will tell Bhai. Nikhil comes there and sees stupid, bad uncle written on the chair by Kiara. He slaps the goons. The goons tell that they will go and catch her. Kiara asks about angel uncle. Pragya says he is fine. Kumkum Bhagya: Here's Who Will Play Abhi and Pragya's Daughters Post Leap – See Pics
Kiara hears the goons coming and ends the call telling Pragya that she will call her again. Pragya thinks about how to search for them. Kiara sees a car and sits in the back of the car. Nikhil and his goon follow the car and aim the gun at the man. Man gets hurt. Nikhil asks his goon to bring Kiara. They check the car, but Kiara is not there. Kiara sees a shop and thinks to ask him about the location, and thinks if she will him then bad uncle will also kill him. She runs without asking him. Nikhil shoots them.
The goons come to the place and don't ask the man at the stall. Pragya calls Abhi (Shabir Ahluwalia)and tells him that Kiara called, just then her phone battery drains. She puts the phone on charge. Kiara calls Abhi and tells that she eloped from there and tells that she told Mamma to take her, and says she is very scared. She says you are my superman, take me from here. Abhi asks her not to take tension.
Kiara asks her to take care of Mamma and asks about her siblings. Abhi says she got two sisters. Kiara gets happy and asks him to take her home, and says she wants to see her sisters. Abhi says today itself she will meet her sisters. Kiara says they will not come here, as they are scared of lizards. Nikhil says she must be hiding here. Pragya's call comes. Kiara asks him to make a video conference call.
Pragya is on the way. Abhi calls her via video call. Pragya says she is going to pick Kiara. Abhi says he is going to pick her and asks her to go back. Pragya says she will also come. Abhi says ok. They tell that they will reach her first. Kiara shows the jungle. Pragya says this is Suraj Kund. Abhi says no. She asks the driver to take her to Suraj Kund. Abhi says even he is coming. Kiara says you didn't tell me about my sisters.
Pragya says you have disconnected the call and says one is elder and one is younger. Kiara asks about their names and says elder one's name start with P and the younger one's name will start with R. Driver tells Pragya that his petrol is over. Abhi and Pragya reach the jungle. Kiara calls him Daddy. Nikhil and his goon hear her voice. Pragya and Abhi ask her to be quiet. Abhi says he can hear her voice only on phone. Kiara asks if there are many people with her. Nikhil and his goon catch Kiara.
Abhi and Pragya ask him to leave her. Abhi and Pragya reach the spot and find a broken phone. She says Kiara was crying and shouting and we…Pragya says she told him that Kiara was here. Pragya says he just wanted to prove that he saved Kiara. Pragya says when she called him, why he didn't pick the call. Abhi says he was with Ashish and asks if she is blaming her. Pragya says no and says when she told him that Kiara is in this jungle then why you don't believe.
Pragya says she is going to search for her daughter alone. Purab calls Pragya and tells her that Shetty died and we couldn't find about Kiara. Nikhil calls Pragya and says if he doesn't get his money in 1 hour then he will send her daughter home in installments. Pragya says she is bringing money and calls King. In the precap, King tells Nikhil that once Pragya gives you money, he will give him more money and tells to handover Kiara to him. He books London tickets for them.