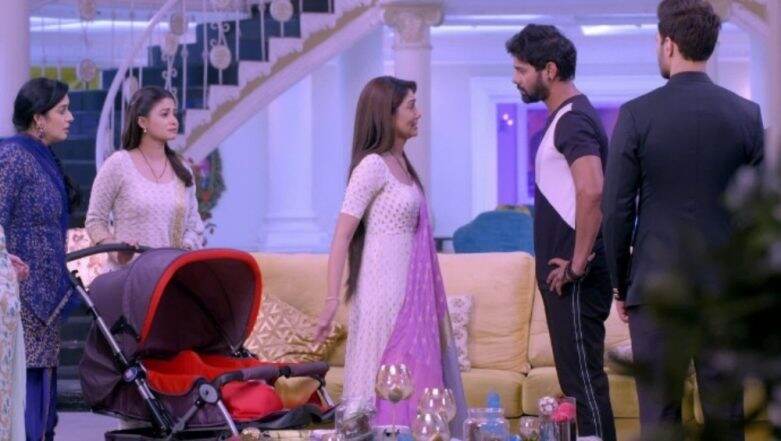 Today's episode of Kumkum Bhagya starts with Abhi (Shabir Ahluwalia) asking Pragya (Sriti Jha) why she handed over the money to Nikhil. The blame game continues where Pragya and Abhi blame each other for the loss of Kiara. They bring back past episodes where both of them lost important people because of each other. Abhi accuses Pragya of not believing in him and resorting to using King's help. He then reveals that King is also a bad person because he was the one dealing with Nikhil. Kumkum Bhagya March 14, 2019 Written Update Full Episode: Abhi and Pragya Fight Over Kiara After Nikhil Jumps Into a Lake With Their Daughter
Pragya is shocked when Abhi reveals that King had plans to take Kiara away from her. Turns out when King was talking to Nikhil and then booking tickets to London, Disha overheard everything. Instead of telling Pragya, Disha went and told Abhi about the same. Pragya is shocked to learn about this and asks King if it is true. King reveals that he did plan things and would have been successful too if Abhi hadn't reached and caused troubles. King states how after Pragya and Kiara spent seven years with him, they simply left him for Abhi. Pragya slaps King for what he has done and tells him that she doesn't want to ever see his face.
As King leaves, Pragya turns to Abhi and tells him that she cannot live with Abhi knowing that he is the reason Kiara died. She says that she cannot live with Kiara's murderer. Abhi also retorts by saying the same thing. Pragya walks out and goes upstairs to her twin girls. Disha follows her and tells her to not do anything hasty. Pragya gets the babies in the trolley and states that she will be leaving the house. Abhi and everyone asks her where she is going to which Pragya states that she is leaving. Pragya says that she will not give the babies to Abhi as they are not safe with him. Abhi says that the kids are more safe with her and not him.
Abhi then asks Pragya how much money she wants to give up the babies. Pragya says that she only wants her daughters but Abhi simply states that she won't get the kids but money for them. Pragya taunts him that he couldn't save Kiara with the money so there is no guarantee that her twins are safe. Abhi then says that the court will decide the same as he will fight for the custody. They keep calling each other murderers and their twin daughters start crying. Disha gives them an idea that they should simply go their separate ways and take one baby each. Aaliya also loses her cool and tells them that they should separate for the sake of her nieces.
In the precap, Abhi asks Pragya never to return. Pragya says she or her daughters will never return. She leaves the house.