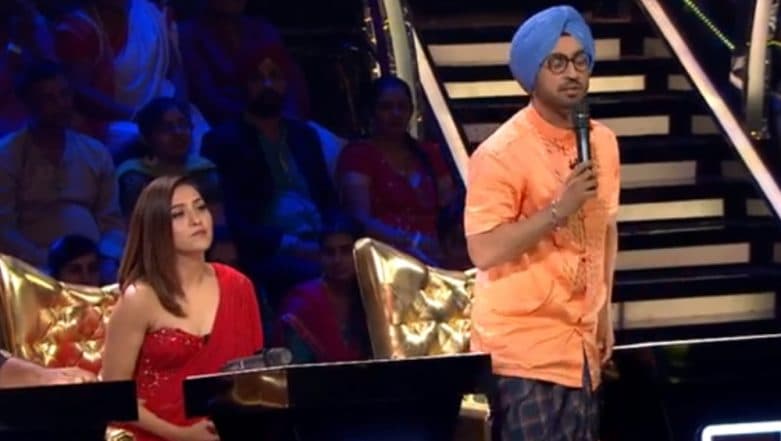 The singing reality show, Rising Star, is running in its third season. The LIVE show has contestants singing for a jury comprised of Neeti Mohan, Diljit Dosanjh, Shankar Mahadevan. And the show might have stirred controversy on the internet. The judges are being called out on Twitter for standing up against sexual harassment as a tool for a prank on two contestants. Gender equality activist, Kirthi Jayakumar, took to her Twitter handle and slammed Neeti, Shankar and Diljit for making light of harassment for a prank. Her thread is garnered a lot of attention on Twitter. Chinmayi Sreepada has also chimed in her views on the same. #MeToo in India: Chinmayi Sripada Files Complaint Against Lyricist Vairamuthu.
Let us give you a rundown of what happened on Rising Star. Halfway into episode 3, two best friends, Shikhar Rastogi and Kunal Bojewar, entered as a singing duo. On the main stage, Kunal joked about how Shikhar has a little crush on Neeti and how he said she was looking 'kadak and Raapchik in a laal saree'. #MeToo in Bollywood: Rajkumar Hirani, Anu Malik, Alok Nath, Here's the List of All Celebs Accused of Sexual Harassment So Far.
Neeti then asked Kunal and Shikhar if they realised where they were standing. She reminded them that they are live on national TV and that it was a crude joke they are making using cheap words. Diljit and Shankar chimed in and called out the contestants.
"I am representing all the girls here and I don't allow this. No one can talk to me, or any girl like this in this country or any country. We three judges don't approve this, the show doesn't approve this, the channel doesn't approve this was of talking," Neeti continued her angry rant.
She threatened to disqualify one of them and threatened to leave. Upon seeing Shikhar shaken to the core, Neeti began to laugh. Diljit and Shankar, too, began to laugh. Neeti revealed that they were all joking and this was a prank set up by them to scare Shikhar.
Shikhar and Kunal heaved a sigh of relief. They touched Neeti's feet as a sign of respect.
The Twitter thread mentioned earlier in the article talks about how problematic this prank was. On one hand, so many women in the industry have spoken up about sexual harassment, giving rise to India's #MeToo movement, last year. And Rising Star judges thought it would be funny to pretend to be offended about harassment.
Check out the Twitter thread here:
Terrible that @neetimohan18 says that she represents all girls on the stage, and then threatens to walk out in response to what is clearly inappropriate and verbal sexual harassment, and then proceeds to laugh at how it is all a prank. Seriously, sexual harassment is not a joke.

— Kirthi (@kirthijayakumar) March 23, 2019
I truly hope you all introspect and think about how you've undermined such a grave issue. You've completely disrespected the emotional labour it takes to fight harassment, to speak up and to seek redress. You've reduced it all to a joke @neetimohan18 @Shankar_Live @diljitdosanjh

— Kirthi (@kirthijayakumar) March 23, 2019
Oh. My. God. This is Disgusting. Aditya Narayan just asked Diwakar Sharma, who is blind, to describe how each of the judges look. I'm so sickened by this apathy and disrespect. Disability is not a joke, you insensitive people.

— Kirthi (@kirthijayakumar) March 23, 2019
Chinmay Sirpaada, who is fighting a battle against the biggies of the South Indian film industry, took note of the thread. She replied, "Hi Shankar sir and Neeti - I called out Mr Vairamuthu and have been banned by the TN dubbing union. Please do know this aint funny. I am fighting a court case. Though support would have been great, this tone deaf 'joke' could have been avoided,"
Shikhar and Kunal went on to sing Tera Yaar Hoon Main and managed to impress the judges and the audience and made it to the second round, in case you wanted to know. The Twitter thread against the so-called 'prank' is only gaining heat now. Let us see, where this outrage leads to. Stay tuned to LatesLY.