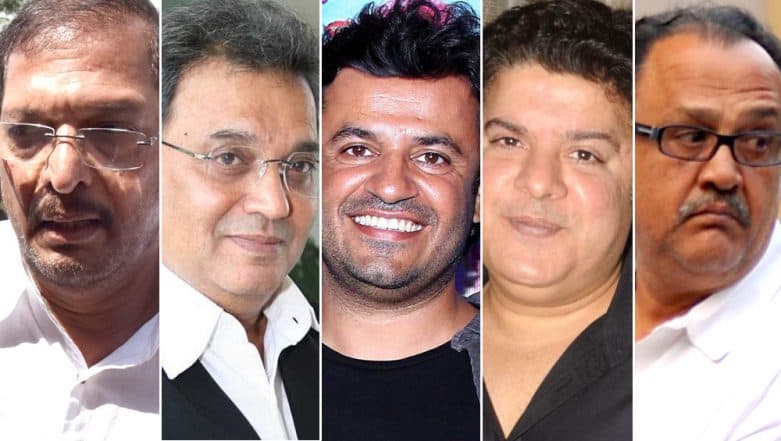 #MeToo movement has picked up a pace after a Bollywood actress accused actor Nana Patekar of sexual harassment. Social media since then has been flooded with various #MeToo stories. Bollywood has been majorly affected by it and many unexpected names came out in this raging movement. People like Alok Nath, Sajid Khan, Vikas Bahl, Subhash Ghai and more already being in the mid of this controversy, the recent ones are Anu Malik and Sham Kaushal. Here's the shockingly long list of the accused celebs in Bollywood.
Nana Patekar- He was accused of sexual harassment by a Bollywood actress for allegedly changing the choreography. She claimed that he added intimate steps in the song that needed her to do it with him. After she complained to choreographer Ganesh Acharya and director Rakesh Sarang, they refused to take action. Nana and others have refuted the allegations.
Alok Nath- Known for his "sanskari" kind of roles, the popular actor has serious accusations on him. Many celebs opened up about his alleged sexual misconduct after getting 'drunk'. Bollywood personalities like Renuka Shahane, Himani Shivpuri, Deepika Amin, Sandhya Mridul and a writer of a popular 90s serial have spoken against him.
Kailash Kher- The Kailasa singer got accused by women on social media for the sexual misconduct with them. However, later singer Sona Mohapatra too corroborated these incidents by telling her own experience. The singer denied the allegations.
Vikas Bahl- The director has been in the controversy, after the severe sexual harassment allegations on him. Not only Kangana Ranaut but other actresses also accused him of sexual misbehaviour. The director has been ousted of his upcoming film Super 30 starring Hrithik Roshan. His partners Anurag Kashyap, Madhu Mantena and Vikramaditya Motwane also dissolved 'Phantom Films' post this controversy.
Abhijeet Bhattacharya- The singer who has earlier too accused of ill behaviour, got embroiled in the controversy. He was accused of sexual misbehaviour by a flight attendant. Another woman accused him of misbehaviour in a pub, 20 years ago. However, he refuted the allegations saying that "fat and ugly" women are making accusations in this movement.
Sajid Khan- The director has been accused of sexual misconduct by actresses Saloni Chopra and Rachel White amongst others. They shared their experience of him asking questions like 'do you masturbate' during the interviews. Post this, he has stepped down as the director of the upcoming film Housefull 4 starring Akshay Kumar and Nana Patekar in it.
Subhash Ghai- An anonymous woman accused the Taal director of drugging and raping her. It was shared by another woman on the social media platform. However, the filmmaker has denied the allegations.
Rajat Kapoor- The Kapoor and Sons actor has been accused of sexual misconduct by two women. They accused him of asking for body measurements and touching and texting inappropriately. The actor took social media to apologize for 'slipping through his actions and words'.
Subhash Kapoor- The director of Jolly LLB was accused by actress Geetika Tyagi of sexually assaulting her. She confronted the filmmaker and recorded a video where he confessed about the crime. Post this he was arrested by the police. He has been also dropped as a director of upcoming film Mogul by Aamir Khan and Kiran Rao.
Piyush Mishra- A newspaper staff accused the actor of getting drunk at a party and sexually assaulting her. Mishra said in a statement that he was "few drinks down" and apologised for making the lady uncomfortable with his words and actions.
Raghu Dixit- The singer and music composer has been accused of sexual misconduct by two anonymous women. Their experience was shared by singer Chinmayi Sripaada. He even acknowledged, admitted and issued an apology for one of the incidents in a statement.
Varun Grover- Sacred Games writer was accused of sexual misbehaviour by an anonymous woman for the incident that happened when he was a student in BHU. However, he denied the allegations made on him. Filmmakers Anurag Kashyap and Neeraj Ghaywan lent their support to him. There are discussions over dropping the much popular Netflix series Sacred Games season 2 post this and the decision is awaited.
Vivek Agnihotri- Tanushree Dutta accused the director of asking her to strip and dance in front of actors Irrfan Khan for his close up shot. He, however, said that he will act without she dancing in front of him. Suniel Shetty who was present on the set also backed Tanushree then. She said that there are good people like Irrfan and Suniel in the industry. The filmmaker called her claims "false and frivolous."
Zulfi Syed- A photojournalist accused the actor and former Bigg Boss contestant of sexual misconduct in 2006 on a cruise liner, during an event. She accused him of forcing himself on her and kissing her despite stopping him.
Luv Ranjan- The Sonu Ki Titu Ki Sweety director was accused by an anonymous actress of sexual misconduct during the audition of Pyar ka Punchnama. She claimed that he asked her to take off her clothes. She also added that he asked her questions like does she use condoms, or does she masturbate.
Anu Malik- The singer-composer has been accused of the sexual misconduct by singers Sona Mohapatra and Shweta Pandit. Shweta accused him of asking her to kiss her in order to get a chance to sing for a film. She thanked Sona to bring it out in public. However, Anu called the allegations 'ridiculous'.
Sham Kaushal- Actor Vicky Kaushal's father and popular action director Sham Kaushal was accused by two women of sexual harassment. A film production designer accused him of being 'touchy' four years ago. Kaushal issued an apology letter for those who were hurt by his actions.
Rajkumar Hirani- He is the director of some of the most successful films in Bollywood namely, Sanju, 3 Idiots, PK, Munna Bhai MBBS, Lage Raho Munna Bhai. Rajkumar Hirani has been accused of sexual assault by a woman who worked with him on Sanju. She says this happened during the post-production of the film.
It is appalling to find so many 'respected' personalities to be embroiled in the #metoo controversy. However, on the flip side, it is also encouraging for all the women out there to speak up against the influential names without guilt and fear. The only thing that is disappointing is that no A-lister is keen to come out in open to take a stand for any of these people and are conveniently maintaining silence. Bollywood is totally under the scanner for its betterment!