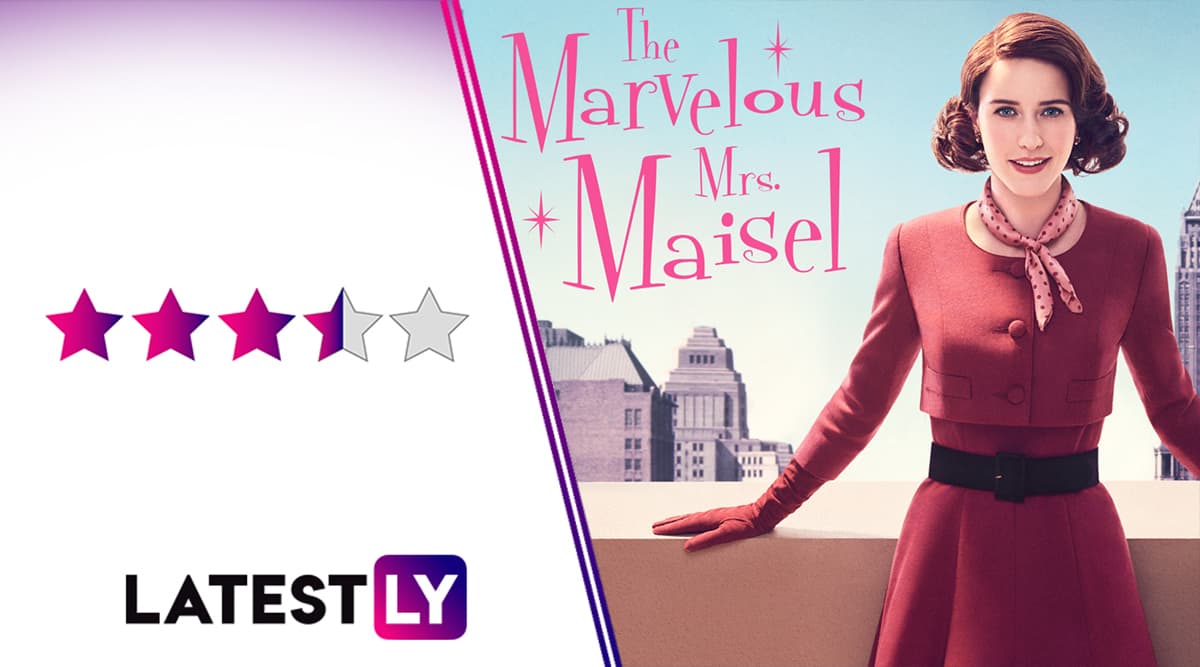 The third season for Amazon Prime's The Marvelous Mrs Maisel is all set  to stream on December 6 and after a fantastic first season and a bit of an unsatisfying second season, I am glad to say that of the five episodes that were provided by Amazon for critics viewing, I think the show has found its magic dust again. Once again, get set to get yourself transported to the 60s with Rachel Brosnahan's Midge and Alex Borstein's Susie on a ride filled with laughs in the third season. 'The Marvelous Mrs Maisel' Actor Brian Tarantina Dies at 66.
The show takes off exactly from where we left last time and we see a quiet (probably her only silent moment on the show) Midge (Brosnahan) leaving the bedside trying not to wake up her ex-husband Joel (Michael Zegen) as she leaves for her first-ever tour. As revealed in the second season, Midge is all set to open for singer Shy Baldwin (LeRoy McClain) who is on a multi-city tour. From performing at the USO show and having her own Marilyn Monroe moment to gambling at Vegas and eventually sun-bathing in Miami, the first five episodes take us through Midge and Susie's first road adventure. While Mrs Maisel continues to shine on stage, her manager Susie is still getting used to being "Susie and Associates" and has the to make the tough call of taking on another client, the reticent yet successful Sophie Lennon (Jane Lynch).  As for the rest of the cast, it's a tough time for Midge's parents Rose (Marin Hinkle) and Abe (Tony Shalhoub) who are faced with a financial problem and find themselves living with Joel's 'loud' parents Shirley and Moishe. While Midge is on the road, Joel is busy building himself a club in Chinatown and also finds a distraction in Mei (Stephanie Hsu).
One of the key things that drove me to this show was the fact that it was based on a woman in the 60s wanting to have a career in comedy and who doesn't let her being a mother get in the way of that. While the second season got a little distracted from this crucial point, the third one bounces back. At one point in her set, Midge jokes about her children and after getting a deadbeat silence for that retorts, "Guess you like kids" but she doesn't stop there, she further says "To each his own." The show's emphasis has remained on patriarchy and gender roles and  in the new season they are well reflected on in two instances, one where Rose fails to acquire a seat on the board of her own family when she asks for a raise in the trust fund and is blatantly given an answer that 'no woman' has held that seat and is denied one despite a teenage boy from the family being a member. The other comes in the form of a great character and a brilliant addition to the series, Carole played by Gilmore Girls' Liza Weil, a tour musician whos's interestingly, the only 'white' person in Shy Baldwin's set and also a single mother who has left her kids and embraced a life on the road without guilt. (stressing on the last bit). In her first conversation with Midge, Carole offers to teach her stuff about life on the road and talks about choosing this over staying at home with kids. She says, "What else are we gonna do, stay home and dust?"
The highlight of the show still remains the amazing camaraderie between Alex Borstein's Susie and Brosnahan's Midge. The best 'Midge and Susie' bits from the new season are certainly the ones where they are seen trying their luck on the slots in Vegas and saying  "That shoulda been something!". Also, watch out for another brilliant moment in their Miami tour, I don't want to spoil it for you because it is sure to bring you big laughs.
Brosnahan is once again beyond amazing as the constantly yapping, batting her eyelids in pretty dresses comedienne Mrs Maisel. Same goes for Borstein who stays true to her character and gives us some of the most hilarious moments. Among other new additions, Sterling K. Brown comes on board as Reggie, Shy's straight-talking manager and is a hoot in all the scenes that he is in.  Luke Kirby once again charms us as comedian Lenny Bruce and we are expecting him to have a bigger role to play soon, given that Midge and Bruce may be heading into a more than just friends phase soon. Creative Arts Emmys 2019 Winners List: Game of Thrones, Chernobyl And The Marvelous Mrs Maisel Win Big Over The Weekend!
If Season two's highlight was Rose and Abe's Paris stay, unfortunately, the couple's track goes down under in this season. In fact, I'd say that for all other characters including Joel (Zegen) whose character arcs seem far less interesting than before. There's a whole part about Midge and Joel in Vegas that I won't give away but is probably the most unnecessary development in the larger scheme of things, given Midge's high flying career. It seems like the writers are still finding it difficult to keep us invested in other characters apart from Midge and Susie. It almost seems like Amy Sherman-Palladino finds herself in a similar situation to that of Gilmore Girls, where we literally didn't care about anyone else but Lorelai and Rory. It never really became an multi-starrer show, and looks like this one is struggling on the same lines.
The sprawling long shots of gorgeous hotel lobbies with staircases that have ladies walking down in their skater dresses and high heels are simply stunning. Midge's outfits once again are bang on and compliment to the era quite perfectly.  Although I did find myself a tad restless when Shy's performances stretched for a little more than required in a few episodes. Yes, the whole Frank Sinatra music is appealing but also distracting when there's a storyline you're chasing.
Final Thoughts:
Based on the first five episodes of the third season, I think it is safe to say that Marvelous Mrs Maisel is back with a bang. Midge and Susie are on the road and you don't want to miss out on Susie's flight paranoia and many more such moments that these two go through. There's Vegas mobsters, sunny Miami and Midge's hilarious jokes to keep you entertained. If you missed Midge's incessant yapping, Mrs Maisel is an even bigger hoot on stage, when on tour. T**ts up for this one!