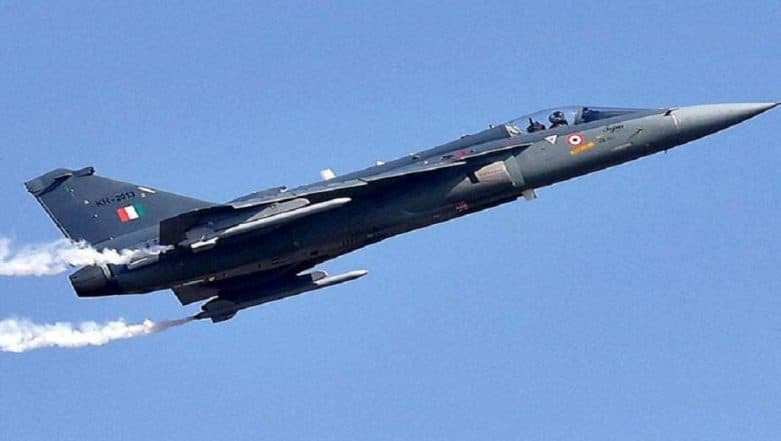 New Delhi, April 25: Apart from testing its strength to counter twin attack from both Pakistan and China, the other major positive to take away from the Indian Air Force's (IAF) biggest war-like exercise, 'Gagan-Shakti 2018' is the performance of Light Combat Aircraft (LCA) Tejas. The indigenously-manufactured (LCA) Tejas was put to test by the IAF in the 14-day long exercise. The aircraft performed as per the requirement of the force.
An IAF official who was involved in the exercise said, "We did trials and validation of operational efficiency of LCA Tejas. We were able to generate six sorties per platform per day. In this exercise, we had deployed eight platforms." According to the official, on the very first day of the exercise, six Tejas aircraft reported 'snag', but the air force rectified it immediately. The 'Gagan-Shakti' started on April 8 and concluded on April 21.
The Officials associated with the exercise performed satisfaction regarding the performance of Tejas, but at the same time, they are worried about the slow production rate of the aircraft. LCA Tejas is a supersonic, single seat, single jet, multi-role light fighter designed by Hindustan Aeronautical Limited (HAL). It has been under development since 1983. The LCA Tejas was inducted into 'Flying Daggers' 45 Squadron of the IAF on July 1, 2016. It is to replace the ageing Mig-21. In December 2017, Defence Acquisition Council had cleared procurement of 83 LCA Tejas Mark 1A.
At present, two contracts have been signed between IAF and HAL for the LCA one for the procurement of 20 Initial Operational Clearance (IOC) standard aircraft and another for 20 Final Operational Clearance (FOC) standard aircraft. Till now only eight Tejas aircraft are in operation in the force. HAL is expected to provide rest 12 (IOC) aircraft this year. These 40 aircraft (20 IOC and 20 FOC) will be Tejas mark 1. while it is also working on four major upgrades which it will incorporate in the manufacturing of the 83 aircraft. These aircraft will be Tejas Mark 1A.  Out of these 83 fighter jets 10 will be trainer aircraft.
Earlier this month the IAF has issued a Request for Information (RFI) for acquiring 110 fighter jets to strengthen its fighter capabilities. Lockheed Martin's F-16 Block 70, Saab's Gripen E, Boeing's F/A 18 Super Hornet and Dassault Aviation's Rafale are the major contenders for $15 billion deal. Currently, The Indian Air Force is facing the shortage of fighter jest as age-old Migs are about to retire over the next few years. If HAL could provide LCA Tejas on time, then it would definitely help the Indian Air Force to plug in the required gap.
In Gagan Shakti 2018, the IAF displayed its might and conducted the biggest-ever exercise with a focus on key areas like long distance operations, aerial combat, air-to-surface combat, paratrooper assault and medical evacuation. Officials said that a critical focus of the exercise was to check IAF's readiness to deal with a biological, chemical and nuclear war and we were satisfied with our capability to deal with such situations.
In this exercise, 1,400 officers and 14,000 men participated. There were a total of 11,000 sorties conducted within days. The exercise covered all terrains including desert, high altitude areas like Ladakh and maritime sphere.