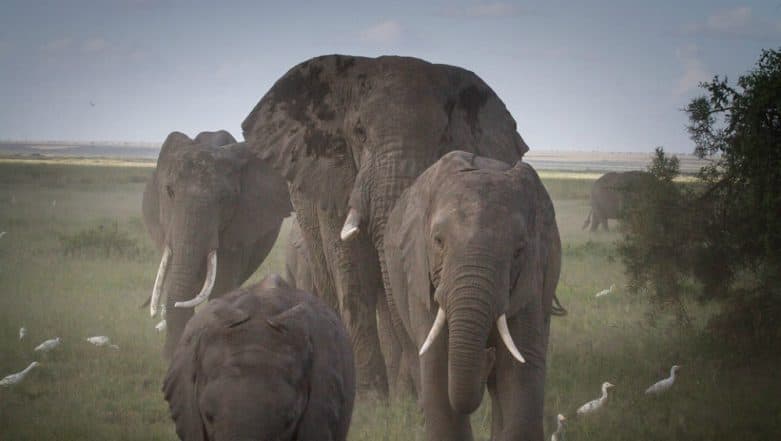 Guwahati, June 20: Assam Congress Member of Parliament (MP) Gaurav Gogoi on Thursday, June 20, sought interference of the Ministry of Environment (MoE) to stop the transportation of domesticated elephants to almost 3,000 km from Assam's Tinsukia to Gujarat's Ahmedabad for the July 4 Jagannath Rath Yatra procession. The elephants would be in Ahmedabad for six months. Elephant Beaten Mercilessly With Sticks in Kerala, Shocking Video Goes Viral.
Kaliabor MP in a letter to Union environment minister Prakash Javadekar said that transportation of the Jumbos in the extreme heat could affect their wellbeing. "India is reeling under severe heatwave at the moment, and roughly half the country is enduring its worst drought in six decades. I am concerned over media reports that the Assam government is transporting four elephants for the Jagannath Rath Yatra in Ahmedabad," Gogoi said. Elephants Carry Dead Body of Calf in Indian Forest, 'Funeral Procession' of Mourning Elephants Go Viral (Watch Video).
Meanwhile, the Assam authorities have granted permission to ferry pachyderms, and Gujarat government has also issued a NOC (no-objection certificate). "The elephants will travel in a special coach attached to a passenger train, with attendants and veterinary doctors at their aid. It would take the animals about four days to reach Ahmedabad from Tinsukia in Upper Assam if the coach is connected to a passenger train," Upper Assam Forest Conservator Ranjan Kumar Das said.
According to elephant experts, ferry the animals during these intense heat will only add trauma to them. Kaushik Barua, an expert, told The Indian Express that transporting these jumbos during this climate would be cruel and inhuman. "A man travelling to Coimbatore by train recently died due to heat. Some of the elephants are juveniles. If they are transported, this will be cruel and inhuman," he said.