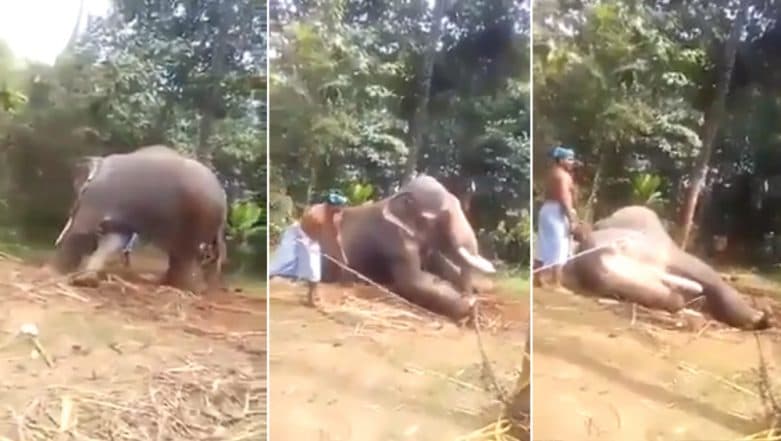 A video going viral on social media shows an elephant being tortured by its caretakers in a clear case of animal torture. The clip which is from Kerala shows its trainers hitting and poking it with sticks. The video shows the men trying to make it move, however, the exhausted animal lays down on the ground. The elephant's legs are chained and it can be seen being forced to move in a circle.
Twitter user @pramodchandrase who is an animal lover posted the video on social media with the caption, "Karnan the gentle giant, once a temple elephant being mercilessly beaten up in Thrissur, Kerala." As Karnan's video was shared massively on social media, an animals rights organisation, 'Voice for Asian Elephants Society' (VFAES) that aims to protect and conserve endangered Asian elephants took up the animal's cause. After 'Failing to Find a Girlfriend to Mate' Angry Wild Elephant Creates a Ruckus in China (Watch Video)
Watch the video below:
Karnan the gentle giant,once a temple elephant ,being mercilessly beaten up in thrissur ,kerala pic.twitter.com/hNNGF7VyID

— 𝓹𝓻𝓪𝓶𝓸𝓭 𝓬𝓱𝓪𝓷𝓭𝓻𝓪𝓼𝓮𝓴𝓱𝓪𝓻𝓪𝓷 (@pramodchandrase) March 25, 2019
VFAES in a tweet said that they investigated the incident and filed a complaint against owners and mahouts. Their tweet reads, "A case was booked by Trissur district forest officers." It added that the Forest Department has taken the elephant under its wing. Baby Elephant Nudging Man to Play With It Will Hit You Right in The Feels (Watch Video)
Here is Voice for Asian Elephants Society's tweet:
@vfaes_org has investigated this story. Our founder has filed a complaint against owners & mahouts. A Case was booked by Trissur district forest officers. Mahouts were fired. The elephant has been transferred to Palakkad district, & is being monitored closely by the forest dept.

— VFAES (@vfaes_org) March 26, 2019
IFS officer, Parveen Kaswan confirmed that a case has been filed against the owner and the mahouts have been fired for the torture met out to the elephant.
This case has been taken up by the authorities. Mahouts are fired, case has been booked, and elephant is looked up by FD. Really appreciate that people flag such issues but these accounts are not monitored 24X7. Such cases should be taken upto authorities directly. https://t.co/muJisYwIha

— Parveen Kaswan, IFS (@ParveenKaswan) March 26, 2019
Several videos of elephants being treated terribly have gone viral multiple times in the past. In Kerala, elephants have a lot of importance in the culture and traditions. They are often used as temple elephants, being decorated and paraded during temple festivals. For which they are domesticated by making them go through strict training sessions. They are also used to work at timber yards to carry heavy logs of wood.