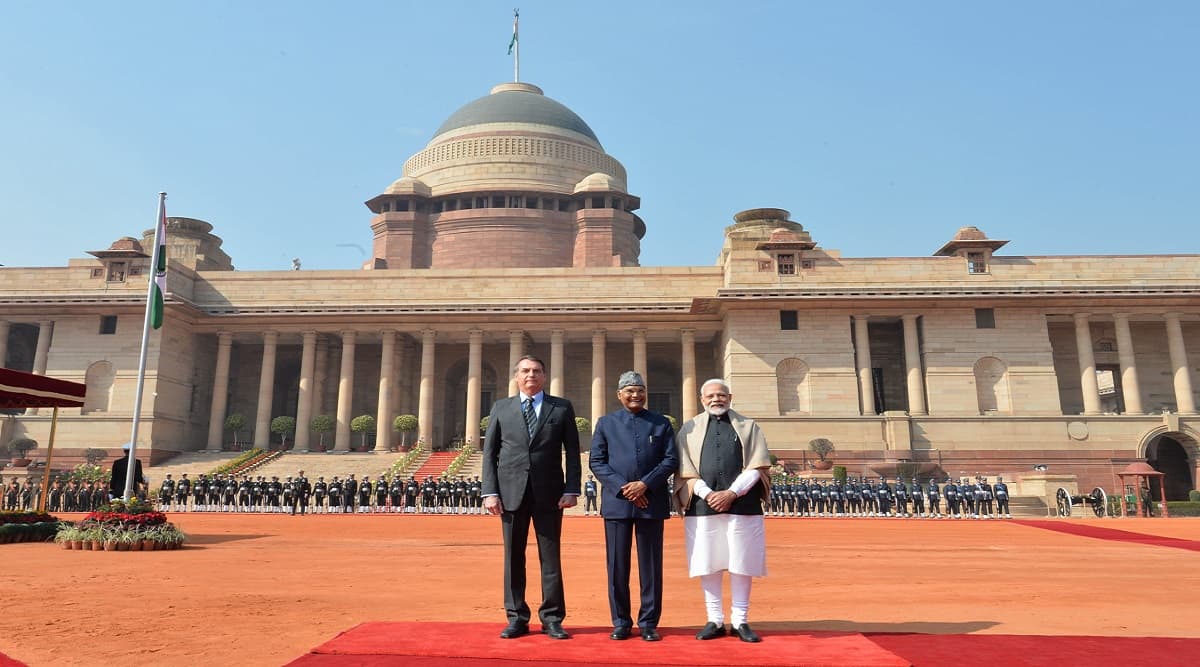 New Delhi, January 25: Brazil President Jair Bolsonaro, the chief guest of Republic Day 2020 parade, was accorded a ceremonial welcome at the Rashtrapati Bhawan by President Ram Nath Kovind on Saturday. Prime Minister Narendra Modi had also arrived at the Rashtrapati Bhawan - the President's official workspace - to greet and welcome the visiting Brazilian head of state. Modi, Bolsonaro Held 'Fruitful Talks' at Sidelines of BRICS Meet Last Year.
After the ceremonial welcome, Bolsonaro held brief interactions with the Indian PM. The two leaders are scheduled to hold bilateral talks later today, where a total of 20 agreements are expected to be signed by them. New Delhi and Brasilia will pledge partnership in an array of sectors, particularly trade, tourism and investment.
Update by ANI
Delhi: President of Brazil, Jair Messias Bolsonaro receives ceremonial reception at Rashtrapati Bhawan. https://t.co/dJjOaYkmTD pic.twitter.com/Y1NfA3dK6E

— ANI (@ANI) January 25, 2020
The meeting between Modi and Bolsonaro today is the second round of bilateral talks between. The two nationalist leaders had earlier met on November 14 last year, at the sidelines of BRICS Summit. Weeks prior to their meeting, the Indian government had officially invited Bolsonaro as the chief guest for the Republic Day 2020 parade.
India had earlier raised eyebrows by inviting Bolsonaro, a controversial world leader, as the honoured guest of the event marking 70 years of the adoption of its Constitution. At the media briefing on Friday, the question was raised before Secretary (East) Vijay Thakur Singh.
Bolsonaro has been criticised by the western media for his alleged misogynistic remarks, anti-democratic approach and abusive language against political rivals. Singh, however, defended India's decision to invite the Brazilian President saying that he is an elected leader of a vibrant democracy. "We will be warmly welcoming him as an honoured guest to the Republic Day and it (his coming here) is a sign of his commitment to building the relationship between the two countries," she added.