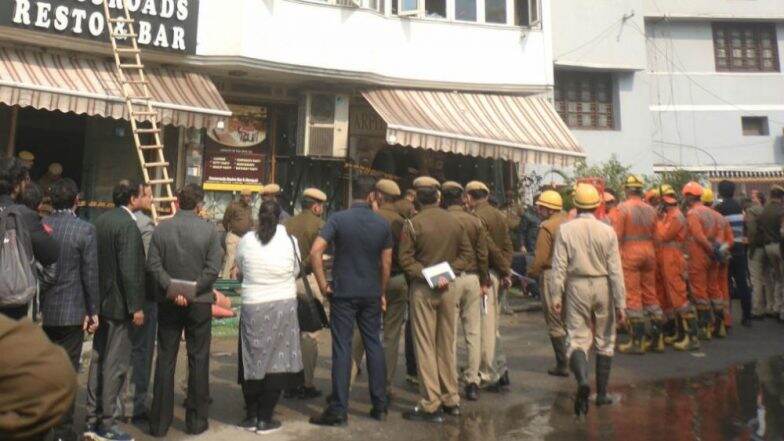 New Delhi, February 13: The fatal incident that took place at a Delhi hotel on Tuesday, killing 17 people, could have been averted if the fire alarms were functional and if the fire exits were not blocked. As many as 17 people and left nearly 35 people injured after a major fire engulfed a five-storey hotel in the heart of Delhi. Some of the survivors were in critical condition while the others dazed and shaken. Reports inform that three people jumped from the blazing hotel as emergency doors were shut during the night which was trapping them inside.  Delhi Fire: 17 Dead After Blaze Engulfs Hotel Arpit Palace in Karol Bagh. 
The Chief Fire Officer Atul Garg blamed the hotel management for the delay in reporting the fire. "During the investigation, it was found that there were lapses on the part of the hotel management as they did not initially inform the control room of Delhi Fire Service (DFS) about the fire in real time", he added. The official further added saying that the hotel authorities reported the incident at 4.35 a.m, nearly 45 mins after the blaze. "They informed us at 4.35 a.m when flames spread across a major portion of hotel from the second floor to first and fourth including the top floor cafeteria," he said. Delhi Government Orders Probe Into Arpit Palace Hotel Fire Tragedy.  
"After sensing the gravity of fire that reached the top floor, the firefighters later took the help of a hydraulic fire engine and rescued the trapped victims after breaking the window panes," Garg added.
According to a report by IANS, the witnesses of the tragic incident complained that the fire tenders reached the spot late. Fire service officials, however, blamed the hotel management for the delay in informing them.
According to details by fire officials, all could have been safely evacuated if the hotel staff had taken seriously the complaints of some Hindustan Petroleum Corporation Ltd (HPCL) officials who were staying there. There were around 55 guests, all asleep, in the Arpit Palace Hotel in Karol Bagh area when the fire broke out around 4 a.m, the officer said.