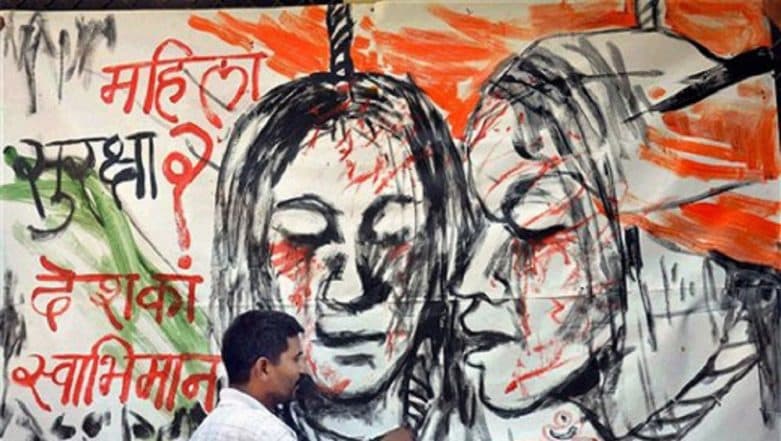 New Delhi, December 16: In a shocking incident, a minor girl was raped by her neighbour at his house while his wife and daughter were upstairs in the same building. Reports inform that the nine-year-old girl had to be hospitalised after she was raped. The girl is now stable and out of danger. Police informed that the brutal incident was reported from outer Delhi's Samaypur Badli on Saturday afternoon. According to a report by Hindustan Times, the 28-year old accused, who is unemployed, committed the crime on the ground floor of his house while his wife and two-year-old daughter were upstairs. Shocking Delhi Rape Case: Neighbour Sexually Assaults Minor, Inserts Rod in Private Parts & Thrashes Her. 
The HT report informs that the nine-year-old girl lives with her parents who are daily wage earners. The incident took place when she was playing outside her home when the suspect allegedly lured her on the pretext of playing with her. The crime came into light after the girl's relatives saw her crying outside the house. Jodhpur Rape: 4-Year-Old Girl Raped by Two Men, Lured With Food.
Rajneesh Gupta, deputy commissioner of police (Rohini) was quoted in the report saying that the suspect's wife was unaware of the crime being committed by her husband. These Statistics Reveal 7 Ugly Truths about Sexual Violence in The Country.
The report informs that the wife of the accused came to know about the incident after people in the neighbourhood started talking about it. The suspect escaped before he could be caught by locals. Police hadn't reached the spot then. Later in the day, Police nabbed him and booked him for rape and under sections of Protection of Children from Sexual Offences (POCSO) Act.