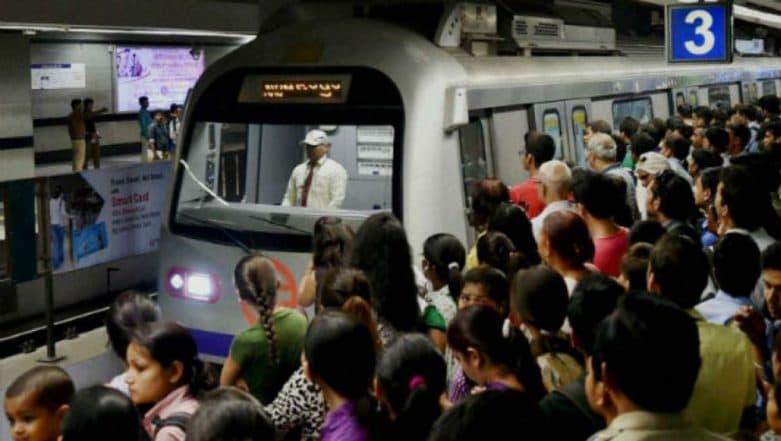 New Delhi, March 13: In an unusual incident, a woman in Delhi had a narrow escape after she jumped on tracks of a metro station to get a Rs 2000 note. Reports inform that the 24-year-old woman jumped on the tracks at Dwarka Mor station on Tuesday morning while a train was approaching from the other side to fetch the Rs 2000 note which was lying on the tracks. According to reports, the woman was later rescued after the train departed from the station.  The services on the Blue Line of Delhi Metro were briefly affected after the incident. Delhi Metro Introduces 21 New Trains To Encourage Commuters to Use Public Transport. 
The incident took place around 10:40 am. An official was quoted saying that the woman fell on the tracks when a train, going towards Noida was approaching the platform. The woman was rescued and rushed to the nearby hospital. She has sustained minor injuries. The woman laid still between the tracks as the train passed over her. The Blue Line connects Dwarka Sector 21 in Delhi to Noida Electronic City.
According to a report by News 18, the woman is a resident of Jharoda Kalan in Delhi and has written apology by the CISF for creating disruption of services on the Delhi Metro's Blue Line, officials said.  Services of the Blue Line metro were briefly affected due to the incident and soon restored to normal.
In a similar incident earlier this month, a man jumped in front of a moving train at GTB Nagar Metro Station in Delhi. The station falls on the Yellow Line between Samaypur Badli and Huda City Centre in Gurugram. The incident led to a brief delay in the operations of the Yellow Line.