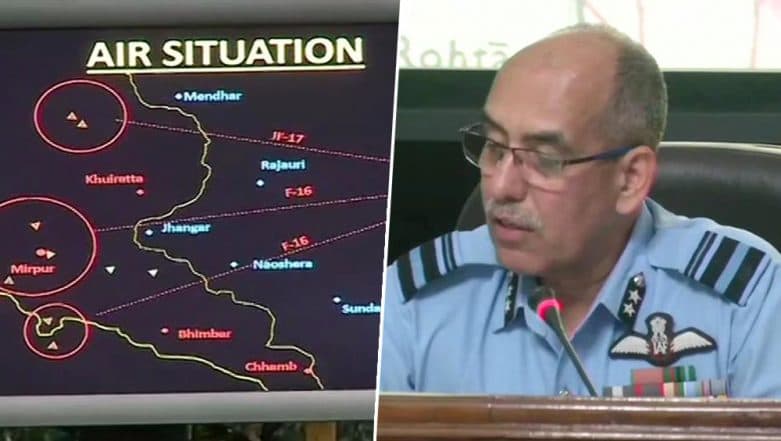 New Delhi, April 8: The Indian Air Force (IAF) on Monday showed radar images to prove Pakistan's F-16 fighter jets were downed in the dogfight with the neighbouring nation on February 27. The fresh evidence was released to counter Islamabad's recent assertion that the F-16 was not struck by the Indian forces during the brief aerial showdown.
Apart from the radar image, the IAF told the press that it has further "irrefutable" evidence of eliminating a Pakistani F-16, but would not be releasing it in public domain due to "confidentiality" concerns. IAF Refutes US Media Reports on India-Pakistan Dogfight.
"Have more credible evidence that is clearly indicative of fact that Pakistan has lost one F-16 however due to security and confidentiality concerns we are restricting the information being shared in the public domain," said Air Vice Marshal RGK Kapoor.
Airborne Warning And Control System (AWCS) Radar Images Released by IAF: Watch Video
#WATCH: Indian Air Force (IAF) releases AWACS (Airborne Warning And Control System) radar images; Air Vice Marshal RGK Kapoor confirms Pakistan F-16 was downed by Indian Mig on February 27 pic.twitter.com/YnTnlZXsP7

— ANI (@ANI) April 8, 2019
The statement issued by the Air Force reiterated that it has evidence which proves the downing of F-16, along with the loss of MiG-21 bison, being steered across the border by Wing Commander Abhinandan Varthaman.
"The IAF has irrefutable evidence of not only the fact that the F-16 was used by Pakistan Air Force on February 27, 2019 but also that IAF MIG 21 Bison shot down the F-16," it said.
"There is no doubt that two aircraft went down in the aerial engagement on 27 February 2019 one of which was the bison of IAF while the other was F-16 of Pakistan Air Force conclusively identified by its electronic signature and radio transcripts," the statement added.