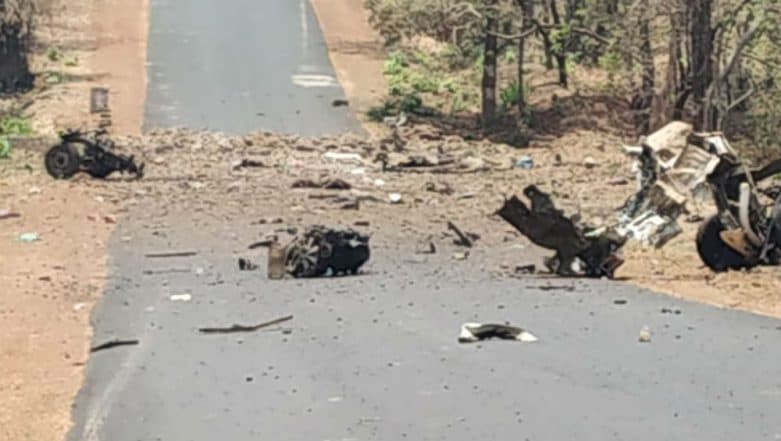 Lucknow, May 2: The Intelligence Bureau (IB) has issued an alert for Uttar Pradesh warning of a possible Naxal attack in the state. The IB issued the alert to the Uttar Pradesh police a day after a Maoist attack in Maharastra's Gadchiroli district. The alert has been issued for Chandauli, Mirzapur and Sonbhadra areas of Uttar Pradesh. Security was being tightened in the state following the alert.
Maoists struck in a big way on Wednesday, killing 15 commandos of the Maharashtra Police's elite C-60 force and a civilian by triggering a landmine blast targeting a security vehicle in Gadchiroli district of Maharashtra. The commandos were proceeding to a place where Maoist activities were reported and were confronted with fallen trees blocking an isolated road in a forest area. Maoist Attacks on BJP Convoy And DD Crew: Mastermind Shot Dead in Dantewada Encounter.
When they alighted to clear the road of the trees, the blast took place, killing the commandos instantly, sources told news agency IANS. Director General of Maharashtra Police Subodh Jaiswal said a security vehicle, carrying 15 personnel, was hit by a landmine blast and a civilian vehicle also got caught in it. All parties, including ruling ally Shiv Sena and the Opposition condemned the attack on the security forces.
Two days before the first phase of polling on April 11 for the Lok Sabha elections, Maoists carried out a deadly attack on a BJP convoy in Chhattisgarh. BJP's lone legislator from Chhattisgarh's Maoist-affected Bastar region, Bhima Mandavi, was killed along with five policemen in the attack that took place on April 9. Mandavi was in the convoy, travelling from Kuakonta to Syamgiri in Dantewada, when it came under Naxal attack using an IED.