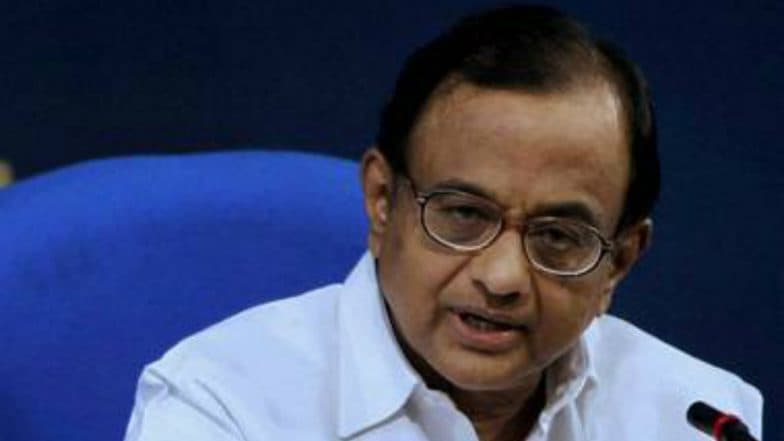 New Delhi, September 16: The Enforcement Directorate (ED) summoned P Chidambaram's former personal secretary, KVK Perumal, in connection with the INX Media case. Perumal has reportedly been asked to appear for questioning on September 18. Earlier also, he was questioned by the investigative agency twice. The former Finance Minister is currently lodged in Tihar Jail under judicial custody in the case probed by the Central Bureau of Investigation (CBI). Aircel Maxis Case: P Chidambaram, Son Karti Get Anticipatory Bail by Special CBI Court.
On Friday, a Delhi Court dismissed Chidambaram's application which he had moved to surrender before the ED in the INX Media Case. Solicitor General Tushar Mehta, appearing for the ED, sought the dismissal of the application saying that the investigative agency did not want Chidambaram's custody. He had further added that ED officials are "using this time to investigate the matter". P Chidambaram Turns 74 in Tihar Jail; Son Karti Writes Birthday Letter, Informs Him About Chandrayaan 2, Piyush Goyal's Gravity Gaffe - Read Full Text.
The former Finance Minister was sent to the judicial custody by the special CBI court on September 5. He is accused of misusing his position as Union Finance Minister in 2007. The INX Media case is related to alleged irregularities in the Foreign Investment Promotion Board (FIPB) clearance to media group INX Media in receiving overseas funds to the tune of Rs 307 crore. P Chidambaram to Remain in Tihar Jail as Delhi Court Dismisses His Plea to Surrender Before ED in INX Media Case.
The former Finance Minister's son Karthi Chidambaram was also one of the main accused in the case. The CBI had registered an FIR on May 15, 2017. Thereafter, the ED lodged a money laundering case against him in the same year. Chidambaram was arrested by the CBI on August 22.