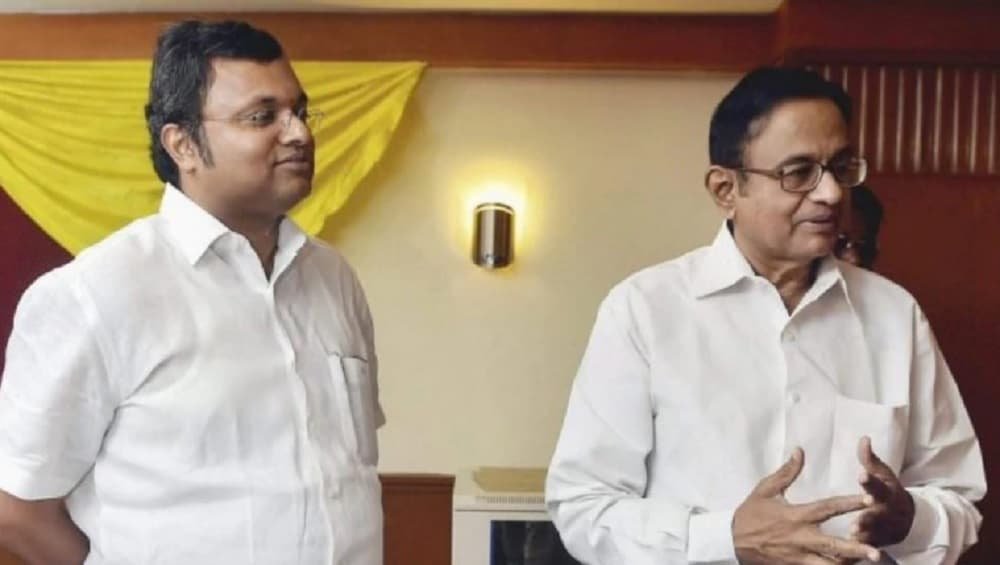 New Delhi, September 16: Jailed former Union Finance Minister P Chidambaram turned 74 today. Chidambaram is lodged in the Tihar Jail in connection with the INX Media case. The senior Congress leader will remain under judicial custody till September 19. On Chidambaram's 74th birthday, his son Karti Chidambaram wrote a letter to his father and informed him about recent developments in the country, including Chandrayaan 2 and faux pas by Piyush Goyal on gravity. P Chidambaram Takes Swipe at Modi Government on Economic Slowdown From Tihar Jail.
Addressing his father, Karti said: "You are turning 74 today and no 56!!! can stop you." "Although you have never been one for grand celebrations, and nowadays in the country, we seem to be making grand celebrations out of every little thing; your birthday is not the same without you with us. We miss you, your absence tugs at our hearts, and we wish you were back home to cut a cake with all of us," he wrote in the letter he posted on Twitter. Aircel Maxis Case: P Chidambaram, Son Karti Get Anticipatory Bail by Special CBI Court.
In his letter, Karti took several digs at the Modi government on a range of issues, including economic slowdown. "Celebrating how wonderfully the GDP is at a 6-year low of 5 per cent as you defiantly pointed out; What an achievement that auto sales have fallen for the 10th month in a row; And of course patting themselves on the back for the Sensex crashing to its biggest fall in 2019 earlier this week," Karti said.
Karti Chidambaram's Letter to His Father P Chidambaram on His Birthday:
My letter to my father @PChidambaram_IN on his birthday #HBDPChidambaram pic.twitter.com/LCTV2Br4Ha

— Karti P Chidambaram (@KartiPC) September 16, 2019
Speaking of the National Register for Citizens in Assam, Karti told his father that the exercise has left the government "clutching at straws". "What not enough Muslims? Let's relook at the data, after all data these days is a tinkerable commodity, as are facts. I have to applaud the government for being extremely imaginative and creative in the face of bad news, a bit like the search for the details of our mythical bank accounts and properties from across the world. Wish we knew where all these millions were," he said.
"The BJP government celebrates their unpropitious second innings and they couldn't have possibly found a better time to silence you. But I have faith that you too will come out guns blazing against this elaborately staged political drama and for now, we all await that hard-fought glory of truth," reads the letter.
On September 5, a court sent Chidambaram to 14 days of judicial custody in the INX Media case. He was arrested late on August 21 following dramatic developments. On September 13, a Delhi court turned down his surrender application in the INX money launder case being probed by Enforcement Directorate (ED) saying that if investigators don't want to arrest, surrender application can't be entertained.
The CBI had registered an FIR on May 15, 2017, alleging irregularities in the Foreign Investment Promotion Board (FIPB) clearance granted to the INX Media group for receiving Rs 305 crore overseas funds in 2007 during Chidambaram's tenure as the Finance Minister.