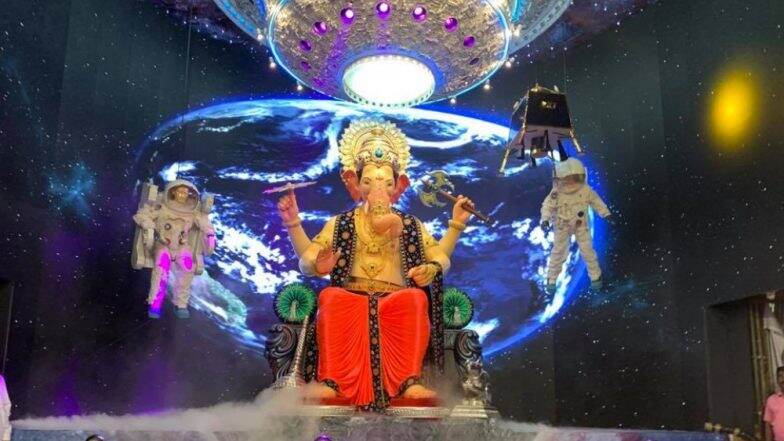 Mumbai, September 17: The economic slowdown seems to have hit Mumbai's Ganpati puja this year. Lalbaugcha Raja, which is one of the most famous Ganpati has seen a drop in the collection, with less cash and fewer gifts. According to a report in Mumbai Mirror, police estimate that fewer devotees came to offer their prayers and the heavy rainfall could be one of the reasons for low footfalls in the pandal. Lalbaugcha Raja 2019 Receives Gold Dining Set Worth Rs 50 Lakh During Ganeshotsav.
Collection of cash and other items have witnessed a dip at Lalbaugcha. This year, Rs  5.05 crore cash has been collected as compared to Rs 6.55 crore. Devotees this year offered 56.7 kilos of silver and 3.75 kilos of gold.
The most expensive gift this time was a gold thali, along with two bowls and two spoons, worth Rs 50 lakh. For the first time in 86 years, Mumbai's iconic Lalbaugcha Raja received one of the most 'expensive gifts' right at the beginning of the Ganesh Puja 2019.  Among the items up for auction is a pair of silver feet covered with gold leaf.
However, a former office-bearer of Lalbaugcha Raja feels that the number of devotees has increased and not decreased this year. He mentions that last year 1.62 lakh laddoos were sold, whereas this year it is 1.86 lakh.
The first look of Lalbaugcha Raja 2019 was unveiled on August 30 ahead of Ganesh Chaturthi, which kickstarted on September 2. The theme for Lalbaugcha Raja 2019 was around Chandrayaan 2.
Lalbaugcha Raja is one of the most famous Sarvajanik Ganapati festivals in the city of Mumbai. In fact, people come from all over the state to pay their respect and worship the Lord. The celebrations of Ganpati in Lalbaug began back in the year 1934. It is among the highly revered celebrations in the city and it is believed that all wishes will be granted if one pays their respect to the Lord.