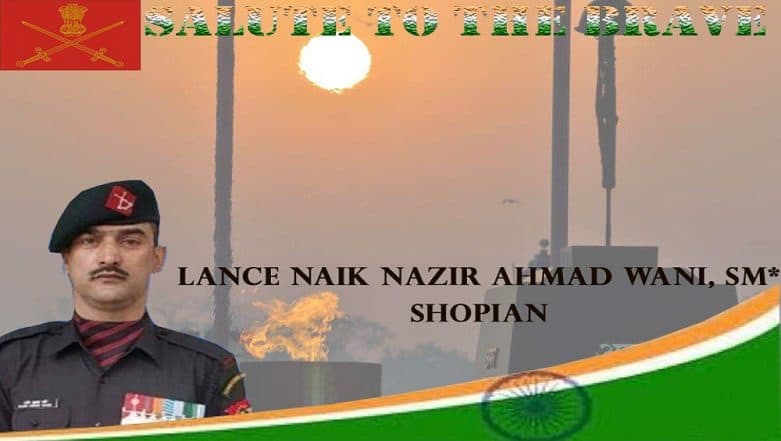 New Delhi, January 24: Lance Naik Nazir Ahmed Wani, who was once a part of terror module in the Kashmir Valley and gave up the gun to become a counter-insurgent, will be awarded with Ashok Chakra posthumously. Lance Naik Nazir Ahmed Wani was martyred during an encounter in South Kashmir's Shopian district on November 25, in which six terrorists were also killed. Lance Naik Nazir Ahmed Wani, The Decorated Soldier Who Was Once Part of a Terror Module, Laid to Rest With State Honour.
"Lance Naik Nazir Ahmad Wani exhibited the most conspicuous gallantry in personality eliminating two terrorists and assisting in the evacuation of his wounded colleagues and made supreme sacrifice in the highest traditions of the Indian Army," a press release from the President's Secretariat read.
He was a highly decorated officer and was awarded a Sena Medal in 2007. In August this year, he warded a bar to the Sena Medal. He had joined 162 Territorial Army battalion in Kashmir and had received Sena Medal twice.
The martyr belonged to Cheki Ashmuji village in South Kashmir's Kulgam district. Lance Naik Wani was inducted into the 162 Battalion of the Territorial Army in 2004. He was given full state honours with a 21-gun salute as his body was lowered into the grave. His colleagues will always remember him for his indomitable courage and bravery which led to many successful operations," An army officer said.
The 38-year Wani attained martyrdom while fighting with terrorists in Shopian districts. He is survived by a wife and two children aged 20 and 18 years. Out of the six terrorists killed in the encounter, four of them belong to Hizbul Mujahideen (HM) and the rest to Lashkar-e-Taiba (LeT).