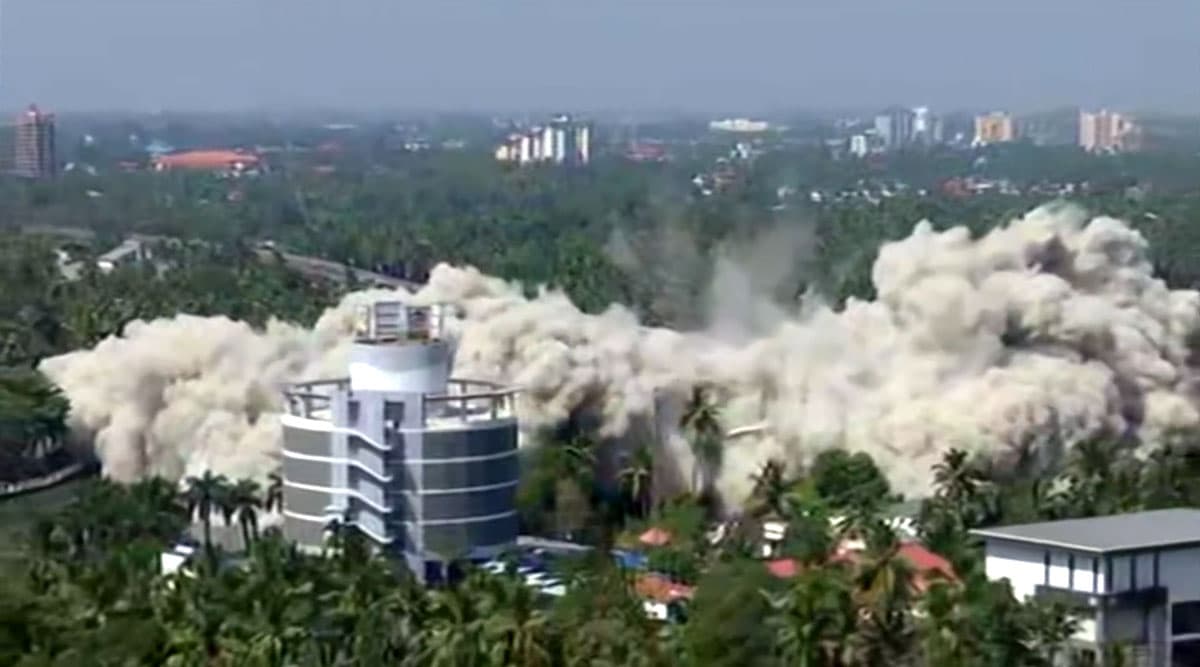 Kochi, January 11: The Kerala government on Saturday executed a highly controlled demolition of two apartment complexes in Kochi's Maradu. The two buildings, 19-floor H2O Holy Faith complex and 16-floor Alfa Serene, were reduced to rubble within five seconds. The video of demolition was shared by scores on social media, as some saw it as a victory of environmental laws against the builder mafia, whereas, others viewed it as a tragic loss for scores who had invested in the high-end properties.
The administration had imposed Section 144 of the CrPC, which barred large gatherings, in vicinity of the Maradu buildings to ensure no damage to lives in the demolition process. While all the residents were ordered to evacuate way in advance, the authorities also carried out a door-to-door last-minute check to ensure no person was present inside the buildings.
Watch Video of Maradu Flats Demolition
The demolition of H2O Holy Faith complex was carried out first, followed by the bringing down of Alfa Serene - separated by a narrow stretch of backwaters. High stacks of explosives were used to reduce both the buildings to debris. A thick-grey cloud, along with ear-shattering noise, engulfed the vicinity for moments following the blast.
The Maradu buildings were ordered to be demolished by the Supreme Court in August last year, after finding that the builders had violated the coastal regulatory zone norms. The apartments, which faced the stunning backwaters, had flats priced as high as Rs 1 crore. A total of 350 flats were based in the two demolished buildings, which housed nearly 240 families. The court has ordered a compensation of Rs 25 lakh for the flat-owners.