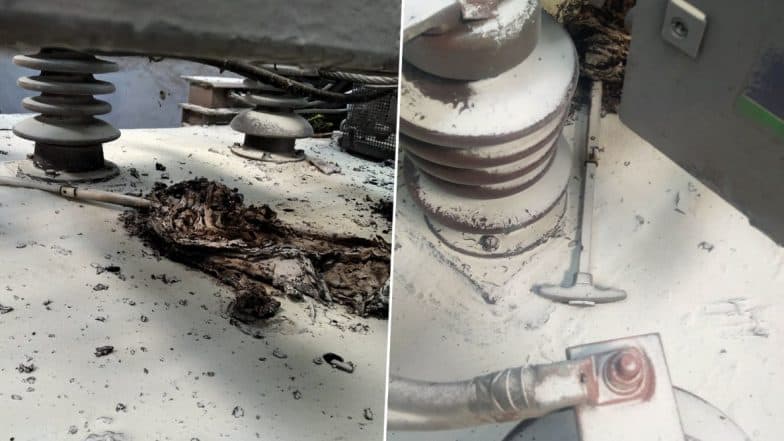 Mumbai, October 9: Commuters on Mumbai's local train network on Harbour line were hit during peak hours after heavy smoke was seen emanating from the roof of a train. The incident reportedly took place at Vashi station. The CST local was Panvel bound, said reports. The incident first came to light when the passengers noticed the smoke. Immediately, railway authorities were notified and they rushed to the spot. Mumbai Local Trains Claimed Over 400 Lives So Far In 2018, 871 People Suffered Serious Injuries Due to Falling Off From Crowded Trains.
The smoke was detected from the pantograph, an apparatus on the roof of an electric train, tram or electric bus to collect power through contact with an overhead line.
See the Pictures in the Tweet Below
Pantograph of PL-49 CSMT-Panvel local flashed due to discarded bag thrown by unknown person on pantograph of PL-49 local at Vashi station. Train detained for 12 minutes from 09.28 hrs at Vashi station. Rake withdrawn and sent to Car shed for safety reasons. pic.twitter.com/7h38Ehn7r3

— Central Railway (@Central_Railway) October 9, 2019
Watch the Video Below
#Panvel-#CST #local train catches fire at #Vashi Station in Navi Mumbai

#VASHI #MUMBAILOCALTRAIN#CENTRALRAILWAY pic.twitter.com/8G2RmJjPUk

— Manoj Pandey (@PManoj222) October 9, 2019
The train had to be sent to the car shed for safety reasons. The local has sustained damage due to the fire, said reports. Pictures show the rooftop partially burnt. Although there's a slight delay on the harbour line, the train network has not been disturbed, said reports.