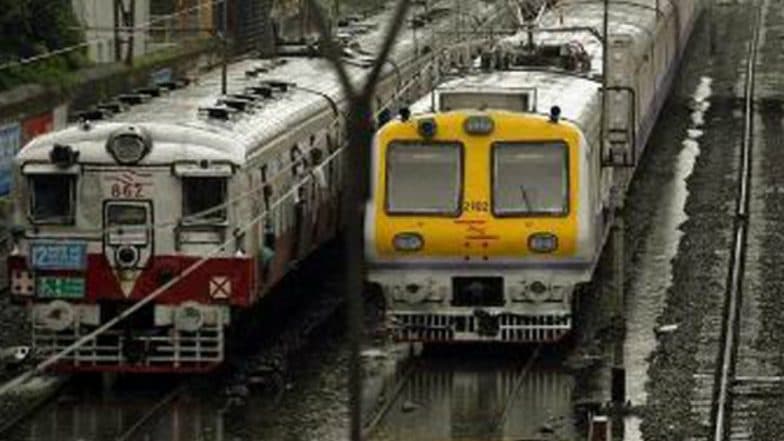 Mumbai, September 17: Heavy rainfall is set to lash parts of Mumbai and its neighbouring areas on Tuesday, the Indian Meteorological Centre (IMD) has said. The metropolis is expected to receive more rainfall over the next 24 hours with the temperature oscillating between 24 degree Celsius and 32 degree Celsius. Commuters travelling in local trains faced inconvenience during the morning hours as several trains on Central, Western and Trans-harbour lines were running late by 10-15 mins. Mumbai Rains: City Receives 3,453 mm Rainfall During Monsoon 2019, Highest in 65 Years.
The rainfall activity in the region has gained momentum as a low pressure area lies over north Madhya Pradesh and adjoining south Uttar Pradesh, which is very likely to weaken during next 24 hours. "The influence of the above systems, fairly widespread to widespread rainfall with heavy to very heavy falls at isolated places very likely over Andaman & Nicobar Islands during next 24 hours and north Konkan and Central Maharashtra during 19th-20th September", the IMD said in its weather bulletin.
According to a report by TOI, Mumbai has broken its 65-year record for the highest seasonal rainfall. As per data from the BMC and state government, till Sunday, the city had recorded 3,453.4mm of rainfall. Earlier this week, private weather agency, Skymet Weather had said that September started on a good note for the city with instances of record rainfall multiple times. "On many occasions, 3-digit rain was recorded in the city, which was more than double the normal figure. Between September 10 and 11, the rainfall activity in the city subsided to a large extent. But thereafter the weather changed again in Mumbai and moderate rains lashed the city," Skymet had said.