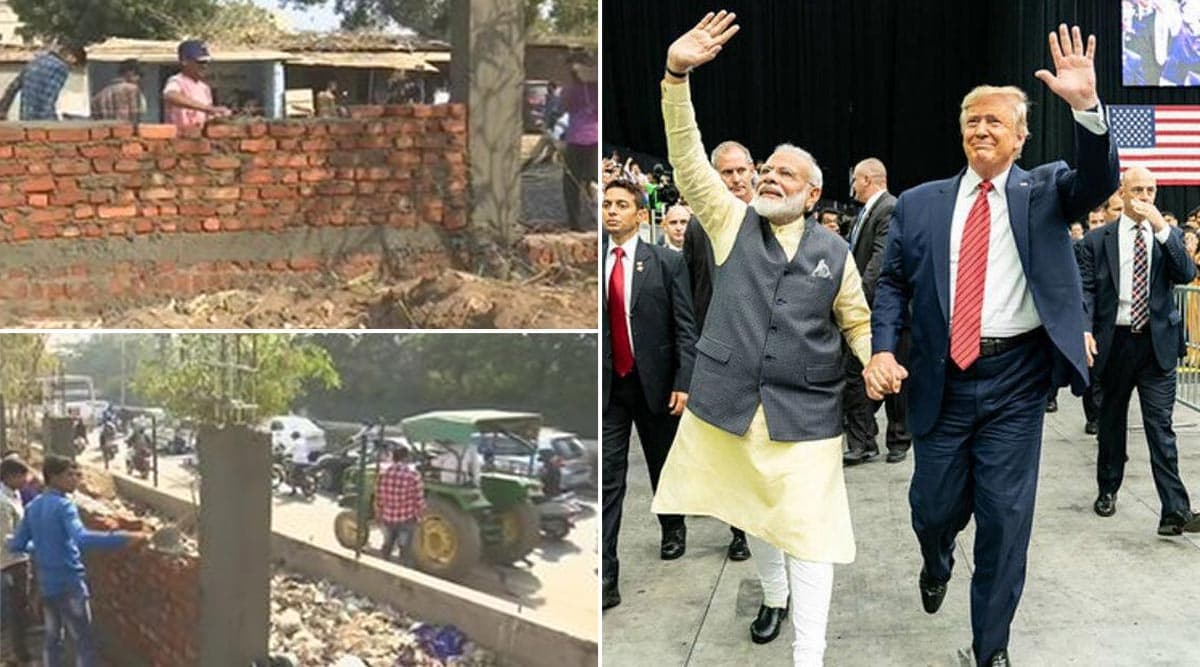 Ahmedabad, February 18: As many as 45 families living in a slum near the newly built stadium in Motera were issued notices on Monday by the Ahmedabad Municipal Corporation and asked to vacate. The families alleged that they had been asked to leave because the stadium is being readied to host US President Donald Trump and Prime Minister Narendra Modi on February 24, The Indian Express reported. Donald Trump India Visit: US President's Three-Hour Stay in Ahmedabad to Cost Gujarat Exchequer Rs 100 Crore, Says Report.
Donald Trump will inaugurate the stadium that is named after India's first Union Home Minister Sardar Vallabhbhai Patel. He will also hold "Namaste Trump" event similar to PM Narendra Modi's successful "Howdy, Modi!" in Houston last September. Notices issued to families, including around 200 slum-dwellers who are registered construction workers, state that the "encroached" land belongs to the AMC and is part of a town planning scheme. Is Donald Trump 'Number 1' And Narendra Modi 'Number 2' on Facebook? Fact-Check of US President's Claim Ahead of His India Visit.
The families have been given a week to vacate the land. In case of any appeals, the slum-dwellers have been asked to approach the department by Wednesday. The residents said that notices were issued due to the "Namaste Trump" event. However, Kishore Varna, who signed the eviction notices, said: "It has nothing to do with the US President's event at Motera stadium. There are some elements who are trying to take advantage of the event."
Earlier, it was reported that the AMC was building a wall along the road connecting the Sardar Vallabhbhai Patel International Airport to Indira Bridge to hide a slum area. President Trump and PM Modi are scheduled to hold a roadshow from the Ahmedabad airport and will visit Sabarmati Ashram to pay tribute to Mahatma Gandhi. On the route of the roadshow, decades-old Dev Saran or Saraniyavaas slum area comes.
Since it will be Trump's first India visit as US President, Prime Minister Narendra Modi has said India will "accord a memorable welcome". Trump will be accompanied by his wife and First Lady Melania Trump.