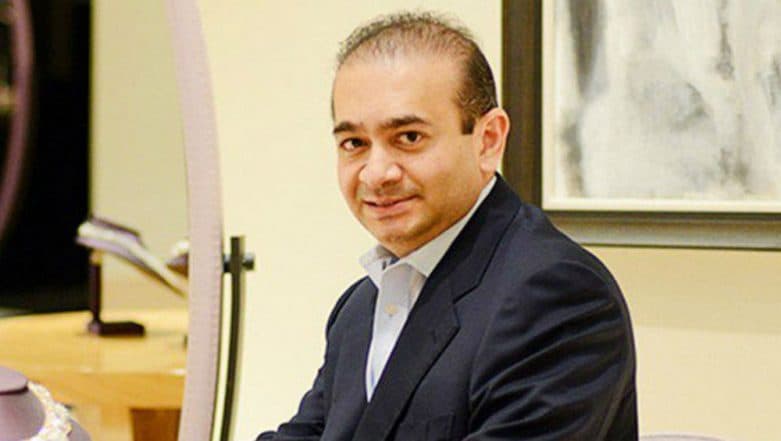 London, July 25: Businessman Nirav Modi, accused of massive frauds and financial irregularities in India, has been given an extended custody till August 22 by London's Westminster Court on Thursday. Billionaire diamond merchant Nirav Modi is at the centre of the Rs 11,300-crore fraudery case involving the Punjab National Bank (PNB) and had escaped days before the scandal came to public knowledge. Nirav Modi, at Centre of the Rs 11,300-Crore PNB Fraud Case, Left India Early This Year: Who is He?
Modi was arrested from the Holborn Metro Station in March this year. He was produced before the Westminster court soon after his arrest. Nirav Modi Arrested in London, PNB Fraud Accused Produced in UK Court.
Read the ANI Tweet Below
Fugitive billionaire jeweller Nirav Modi's custody extended till August 22 by London's Westminster Court (file pic) pic.twitter.com/7RO9IxX1kg

— ANI (@ANI) July 25, 2019
Nirav Modi has fled after allegedly syphoning off about Rs 11, 300 crore from Punjab National Bank (PNB) using Letters of Undertaking (LoU) in collusion with his uncle Mehul Choski. The CBI registered an FIR against him on January 31 on the basis of the complaint against him and Choksi from the bank. It was followed by another FIR by the agency against him.
The Enforcement Directorate (ED) had auctioned Nirav Modi's assets and recently his seaside bungalow in Alibaug was demolished using controlled blasting. The action came after the sprawling seaside mansion Roopanya in Raigad district's Alibaug was declared illegally build and it had flouted environmental norm.