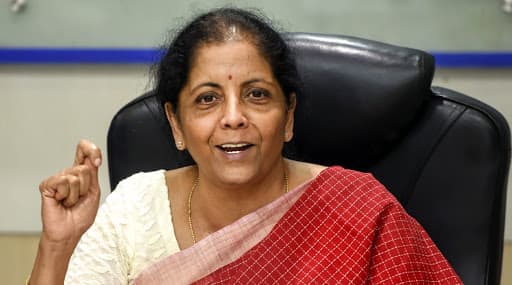 New Delhi, September 28: Aiming to revive the slowing economic growth of the country, Union Finance Minister Nirmala Sitharaman had asked the ministries to provide the capital expenditure (CAPEX) for the upcoming four quarters, which is due to micro, small and medium enterprises (MSME), vendors and contractors. The Finance Minister also sought the ministries to speed up the payment to bring growth from slow to fast track.
Stating that Rs 40,000 crore -- out of Rs 60,000 crore -- has been released by the Finance Ministry and the remaining Rs 20,000 crore would be done by the first week of October, Sitharaman asked the Union Ministries to clear the dues pending for MSMEs, vendors and contractors soon. Earlier, MSMEs have complained to the Finance Ministry about the pending dues from several ministries of the Union government. Nirmala Sitharaman Quashes 'Liquidity Crunch' Reports After Meeting Private Bank CEOs, Announces Loan Outreach Programme in 250 Districts.
The Finance Minister had expressed confidence that the Union Budget estimates would be achieved in time and mentioned that Modi government's capital expenditure is on track to get the engines of economy roaring again. In the first quarter of the FY 2019-20, the Gross Domestic Product (GDP) growth slipped to 5 percent, following which Sitharaman announced a series of steps -- loan melas, corporate tax cut, revised GST, FPI surcharge slash, bank mergers, etc. -- in last one month. Corporate Tax Slashed For Domestic Companies, Existing And Fresh; Nirmala Sitharaman Announces New Rates.
Sitharaman stated that the Union government expects the measures would ensure good consumption buoyancy in the festival season and provide a boost to aggregate demand in the market. It is to be known that that Finance Ministry had pegged Rs 27.86 lakh crore for the total expenditure for FY 2019-20, out of which capital expenditure is budgeted at Rs 3.38 lakh crore (12.2 percent), while the reset is revenue expenditure, i.e. Rs 24.27 lakh crore (87.8 percent). In the last three months, the Finance Ministry had released a payment of Rs 20,157 crore for central public sector enterprises (CPSEs).