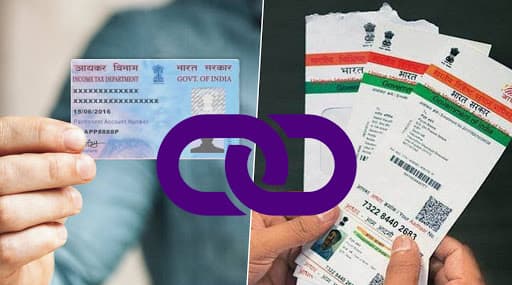 Mumbai, September 24: With the last date of Permanent Account Number (PAN)-Aadhaar linking inching towards its deadline on September 30, people are curious about the consequences of not linking the two. The Central Board of Direct Taxes (CBDT) mentioned on March 31, 2019, that the PAN cards that are not linked to Aadhar by September 30, 2019, will become invalid and inoperative from October 1, 2019. Here are all FAQs answered.
As the confusion over the meaning of the term "inoperative" increased among the taxpayers and PAN-holders, experts believe that the CBDT would not extend the deadline this time, which it had been doing since last two years. If rumours are to be believed, the PAN card would become invalid, which means that the government would consider one doesn't have a PAN card. How to Link Aadhaar Card to PAN Card in Easy Steps Before March 31: Know Online and Offline Ways to Link PAN Number and Aadhaar Number.
Background of New Rule Imposed by Govt:
Looking back the Union Budget presented by Union Finance Minister Nirmala Sitharaman it was stated that the person failing to link PAN to Aadhaar, then his/her PAN would be made inoperative in the prescribed manner.
The budget document stated, "In order to protect the validity of transactions previously carried out through such PAN, it is proposed to amend the said proviso so as to provide that if a person fails to intimate the Aadhaar number, the PAN allotted to such person shall be made inoperative in the prescribed manner." Following this, the new rule for linking PAN and Aadhaar came into effect from September 1, 2019. Aadhaar Smart Card Mandatory? UIDAI Confirms There Is No Such Concept, Warns People.
What Might Happen if PAN-Aadhaar Not Linked?
Since the Narendra Modi government is yet to clarify on what might happen if PAN and Aadhar are not linked and CBDT is unlikely to extend the September 30 deadline, economic experts too are scratching their heads. Some say, PAN will become inoperative, while others say PAN would become invalid. In both cases,  PAN-holder who is going to suffer at the end if he or she misses the deadline.
NA Shah Associates partner Gopal Bohra says, as Economic Times reports, "There is no clarification from the government about what will happen if the PAN becomes inoperative. It is most likely that the consequences will be similar to not holding the PAN and in that event, you will not be able to undertake any specified financial transactions where quoting of PAN is mandatory." PAN Card Online: How To Apply For New PAN Card, Make Corrections, Track & Download it Free at onlineservices.nsdl.com
While Tax2win.in founder Abhishek Soni opines, "As per Income Tax Laws, linking of PAN with Aadhaar is mandatory and it has to be done by September 30, 2019. If the PAN is not linked with the Aadhaar within the said timeline, PAN of the taxpayer will become in-operative. That means the taxpayer will not be able to use the PAN, and it will be deemed that he does not hold the PAN."
How to Link PAN With Aadhaar?
With deadline unlikely to be extended, it's better that people link their PAN with Aadhaar. Here are some simple steps to do so.
a) For Registered Users:
i) If a person files Income tax returns, then the chances are high that him/her PAN is linked with Aadhaar.
ii) To check the status of PAN-Aadhaar link, one will have to visit income tax e-filing website: www.incometaxindiaefiling.gov.in
iii) Login to the website by entering PAN (User ID), password and your date of birth.
iv) Once the account opens, click on the 'Profile Settings' tab and select the last option 'Link Aadhaar'.
v) After this, the screen will show the message, 'Your PAN is already linked to Aadhaar number XXXX4567'.
vi) If it's not linked then fill in the requisite details like -- name, date of birth and gender as per PAN records. Then submit after entering the captcha code appearing on the screen. Once the form is submitted, a success message will be displayed on your screen. New PAN Card Rules 2019: Important Changes in PAN Application Form With Effect From December 5.
How to link your Aadhaar card with Pan card online 2018:
b) For Non-Registered Users:
i) In a person is not interested in registering at the e-filing website, there is another way using which you can link your PAN and Aadhaar. Click on the hyperlink (provided both at the homepage of the e-filing website and also on the income tax website) -- http://incometaxindia.gov.in/Pages/default.aspx
ii) Click 'Link Aadhaar' on the e-filing website. A new form will appear where the person is required to enter details - PAN, Aadhaar number, Name as per Aadhaar. Aadhaar May Get Deactivated for These Reasons: Here's How to Check UIDAI Status and Reactivate It.
iii) Enter the captcha code and click on submit button. Once submitted successfully, a message will be displayed on the screen which read "PAN is successfully linked to Aadhaar".
c) Apart from this, people can also link their PAN with Aadhaar through:
i) Sending an SMS to PAN service providers.
ii) Manual linking by filing up a form (Annexure-I).