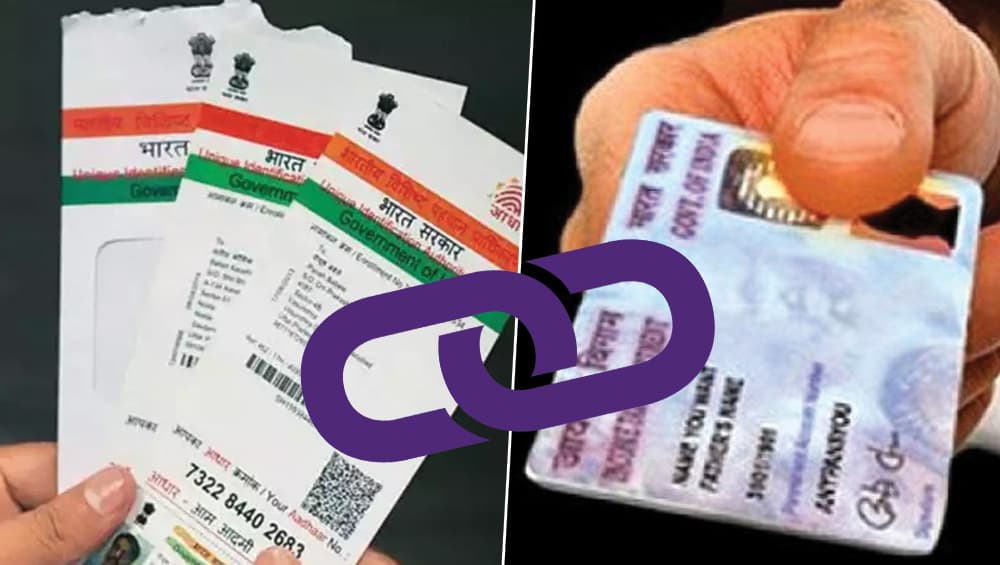 New Delhi, September 28:The Union Finance Ministry on Saturday extended the deadline to link Permanent Account Number (PAN) with Aadhaar to December 31 from September 30. The Central Board of Direct Taxes (CBDT) issued a notification regarding the extension of the date. The deadline was last extended on March 31. PAN Card Online: How To Apply For New PAN Card, Make Corrections, Track & Download it Free at onlineservices.nsdl.com.
If the PAN card is not linked with Aadhaar, then it will become invalid and inoperative from January 1. People can link the two documents both online and offline. The deadline to link PAN with Aadhaar has been changed several times and now has been extended to December 31, 2019. The earlier deadlines were initially extended from August 31, 2017 to December 31, 2017, then to March 31, 2018, followed by 30th June 2018. Finally, the deadline was extended from March 31, 2019, to September 30, 2019. Aadhaar Smart Card Mandatory? UIDAI Confirms There Is No Such Concept, Warns People.
Follow the Following Steps to Link PAN With Aadhaar?
a) For Registered Users:
To check the status of PAN-Aadhaar link, one will have to visit income tax e-filing website: www.incometaxindiaefiling.gov.in

Login to the website by entering PAN (User ID), password and your date of birth.

Once the account opens, click on the 'Profile Settings' tab and select the last option 'Link Aadhaar'.

After this, the screen will show the message, 'Your PAN is already linked to Aadhaar number XXXX4567'.

If it's not linked then fill in the requisite details like -- name, date of birth and gender as per PAN records. Then submit after entering the captcha code appearing on the screen. Once the form is submitted, a success message will be displayed on your screen.
For Non-Registered Users:
Click on the hyperlink (provided both at the homepage of the e-filing website and also on the income tax website) -- http://incometaxindia.gov.in/Pages/default.aspx

Click 'Link Aadhaar' on the e-filing website. A new form will appear where the person is required to enter details - PAN, Aadhaar number, Name as per Aadhaar. Aadhaar May Get Deactivated for These Reasons: Here's How to Check UIDAI Status and Reactivate It.

Enter the captcha code and click on submit button. Once submitted successfully, a message will be displayed on the screen which read "PAN is successfully linked to Aadhaar".
c) People can also link their PAN with Aadhaar through:
Sending an SMS to PAN service providers.

Manual linking by filing up a form (Annexure-I).
According to Section 139 AA (2) of the Income Tax Act, every individual having a PAN card as on July 1, 2017, and eligible to obtain Aadhaar, must intimate his Aadhaar number to the income tax authorities. The Aadhaar number is issued by the Unique Identification Authority of India (UIDAI) to a resident of India while the PAN, a 10-digit alphanumeric number, is allotted by the IT Department to a person, firm or entity.