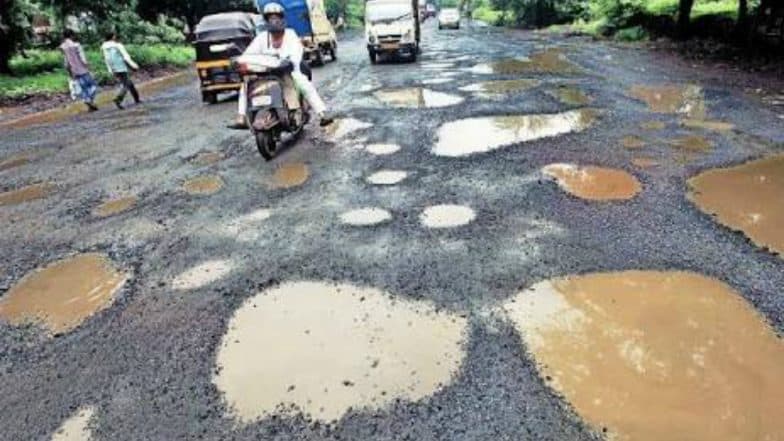 Mumbai, July 12: Another innocent life has been claimed on Wednesday due to civic apathy in Kalyan, the neighbouring city of Mumbai. According to news reports, potholes caused the death of a middle-aged man while he was walking on the road.  The deceased identified as Anna was a 45- year old man, who was crushed under the wheels of a moving truck after he fell into the pothole.
The recent mishap has happened just a few days after a similar incident was reported in the same area due to the deadly potholes. A man was killed after a moving bus crushed him after he fell from his bike. The entire episode was also captured on the CCTV camera, which showed how the pillion rider fell after his bike hit a paver block which was put to cover the potholes, which is usually a common site on the Mumbai roads. However, many a time, the paver blocks,  a temporary measures adopted by road contractors to provide relief from the potholes to riders, ends up endangering the motorists' lives.
As per reports, the incident occurred on the Kalyan- Nevali Road in Kalyan  on Wednesday afternoon. Unsurprisingly, only the truck driver has been arrested so far while officers and road contractors who are more accountable are spared. A Mumbai Mirror new report has quoted the Kalyan Dombivali Municipal Corporation (KDMC) Commissioner Govind Bodke and he too passed the buck over other authority stating that accident which took place was not under his jurisdiction. But those bad roads are under the Maharashtra State Road Development Corporation (MSRDC) who are responsible for its maintenance.
With rising instances of pothole mishaps in and around the city, the opposition party leaders have slammed the government and civic authority for providing bad quality roads even after repeated complaints. Sanjay Nirupam, the Mumbai Congress president has started a campaign to shame the civic bodies. In one of his tweets, he shared the numbers of ward-wise WhatsApp numbers where people can send pictures of potholes of their area and bring the attention of the authority to the rising menace.
Here is #BMC's Whatsapp numbers. Ward wise.

Count #Potholes in your area. Take pictures and send them to us and to any of the following numbers.#आओ_पॉटहोल_गिनें pic.twitter.com/xSQD5Az818

— Sanjay Nirupam (@sanjaynirupam) July 12, 2018
As per reports, in the last forty-five days,  five people have lost their lives due to the potholes in Kalyan alone. The District Guardian Minister Eknath Shinde from Shiv Sena has ensured that the potholes will be filled and the authorities should stop passing the buck, pointing to the KDMC commissioner's reply.