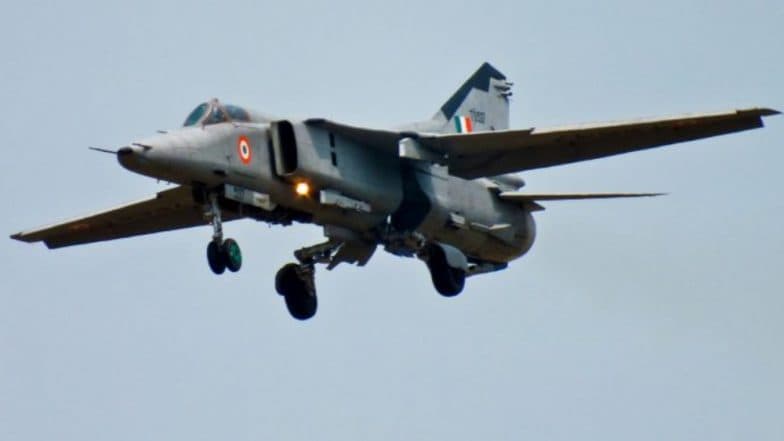 Jaipur, February 12: In yet another shocking incident, a MIG-27 fighter aircraft was crashed Near Pokharan in Jaisalmer in Rajasthan on Tuesday. As per to the initial report, the pilot has escaped unhurt. As the reason for the crash is yet to be known, more details would be informed by the Indian Air Force in sometime.
Reports state that pilot was flying the fighter aircraft during a training mission in Rajasthan's Jaisalmer at 6:10 pm when the incident happened. Folowing the crash, the IAF has initiated a court of inquiry to ascertain the reason for the crash. The MIG-27 fighter jet, that crashed to on Tuesday, is among the Soviet era ground-attack aircraft that India bought in the early 1980s.
Earlier on January 28, an Indian Air Force (IAF) Jaguar fighter plane crashed in Kushinagar in Uttar Pradesh. reports state that the plane had taken off from Gorakhpur Air Force Base and the pilot managed to eject safely from the aircraft. Though the the IAF had stated that time that it has initiated a probe to ascertain the reason for the crash, details are still see the light of the day.
Breifing the initial details, the IAF had said, "Today morning, a Jaguar aircraft while on a routine mission from Gorakhpur, crashed. Pilot ejected safely". Adding more details, RN Mishra, SP Kushinagar stated that there is a populated place nearby and the pilot landed the plane at a distance from that place using his tactical expertise and . saved the lives of others as well.