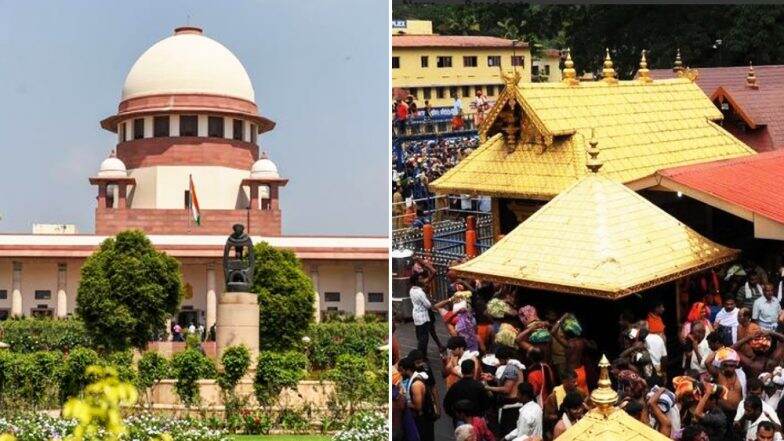 New Delhi, February 6: The Supreme Court on Wednesday began hearing into the review petitions filed against its verdict allowing the entry of women of all ages into the Sabarimala Temple in Kerala. While arguing against the entry of women into the Ayyappa temple, the petitioners stated that matters of religion must not be decided by the court. Arguing for the petitioners, senior lawyer Abhishek Manu Singhvi said that internal community matters must be left to the community members to decide upon. Sabarimala Temple Row: Kerala Government Takes U-Turn, Admits Only 2 Women of Menstrual Age Visited Lord Ayyappa Shrine.
Singhvi also argued that the practice of not allowing women of menstrual age inside the temple was based on the 'brahmacharya' nature of the deity, Lord Ayyappa. "The above argument of the intrinsic character of naishtika bhramachari of the deity has not been dealt with by the 2018 judgment and that is my ground for review. The Gods in Hinduism are worshipped in various forms and manifestations and this particular God/deity is worshipped in this manner," Singhvi said. Sabarimala Temple Row: RSS Chief Mohan Bhagwat Questions Supreme Court Order, Says Hindu Sentiments Not Considered.
After Singhvi, advocated Shekhar Naphade also stated that matters of religious practices and beliefs must not be dealt with by the law. "This is not a matter within the public law domain. It is an internal affair of a particular community. Who is to decide what is an essential religious practice? It should be the members of that particular community," Naphade argued.
On the other hand, Senior Counsel Jaideep Gupta, arguing on behalf of the State of Kerala, said that "not taking arguments into consideration didn't make any grounds for review". Gupta also added that the practice of not allowing women was not a practice within the religion but "that of the temple". "So essential practice of individual temple will not amount to the essential religious practice of religion for the purpose of Constitutional test," Gupta added.
The hearing will continue after 2 pm as the bench rose for lunch after Gupta's arguments.