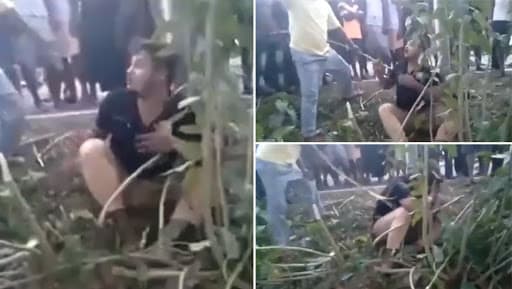 Ranchi, September 18: A week after murder charges being dropped against 11 men for mob lynching on Tabrez Ansari, Jharkhand government on Wednesday reinstated the charges on the accused. All the charges were earlier dropped after post-mortem report mentioned that Ansari died due to cardiac arrest. Following this, kin of victim raised questions on the post-mortem report. Tabrez Ansari Lynching Case: Skull Injuries Preceded Cardiac Arrest, Suggests New Medical Report.
Facing flak from various human rights bodies and media, police on Wednesday filed a supplementary chargesheet. The charges were pressed on the accused based on a fresh medical report. Among other charges, the state police also booked two accused -- charging them with murder.
Briefing more, the police said in their statement, as quoted by IANS, "A supplementary charge sheet has been filed against the 11 accused, and 302 of IPC has been added to it. The decision was taken based on the medical team findings."
It added, "The initial post-mortem report had indicated death due to cardiac arrest. The post-mortem and viscera reports were sent to the Mahatma Gandhi Hospital. The MGM doctors said fracture of bone was a grievous injury caused by hard and blunt object. The combined effect of bone fracture and blood in heart chambers resulted into cardiac arrest. The viral video inter-grity was also tested, and it found true. A supplementary charge sheet has been filed, and section 302 of IPC has been slapped on the 11 accused." PM Narendra Modi On Tabrez Ansari's Killing: 'Mob Lynching Pains Me But Don't Insult Jharkhand'.
It is to be known that the police had dropped murder charges against killers of Ansari on September 10. The incident dates back to June 17 this year, when Ansari was beaten up with rods while tied to a pole for hours. He was even forced to chant "Jai Shri Ram" after being suspected of stealing a motorcycle with two other young men in Jharkhand's Seraikela Kharsawan. He later succumbed to injuries on June 22.