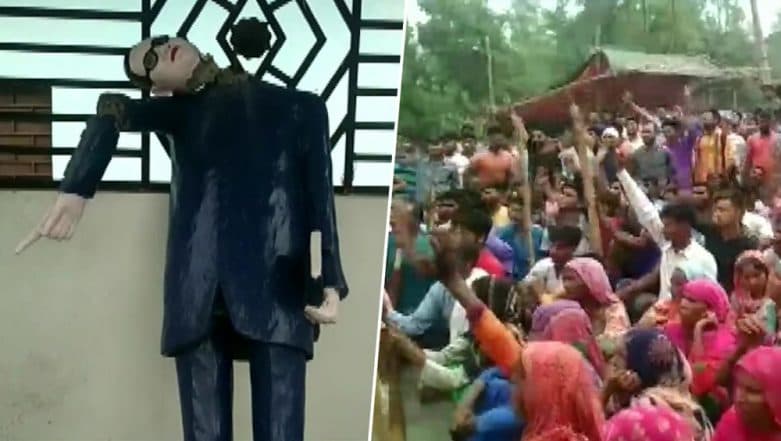 Saharanpur, September 10: A statue of Dr BR Ambedkar was found vandalized on Tuesday morning in Ghunna village in Uttar Pradesh's Saharanpur district. The villagers and members of the Dalit community staged a protest against the statue getting vandalised and came out to protest in large numbers. The crowd holding protest also blocked the highway and police had to reach the spot to pacify the protestors. Ballia: Statue of BR Ambedkar Vandalised by Unidentified Miscreants in Rasra's Sardaspur Village, Statue Later Repaired by Police.
The villagers sat on a dharna (sit-in) and heavy force had to be deployed to avoid the situation from getting out of hand, said reports. The police are investigating the matter, and are trying to figure out who was involved in the incident. BR Ambedkar Statue Vandalised in Nagapattinam in Tamil Nadu Following Clashes Between Two Groups; Administration Re-Installs Structure.
See Visuals of the Vandalised Statue and People Protesting in Tweet Below
Saharanpur: A statue of Dr BR Ambedkar was found vandalised in Ghunna village. Members of Dalit community stage a protest against the incident. Police forces have been deployed in the area. pic.twitter.com/epQaVK4x7K

— ANI UP (@ANINewsUP) September 10, 2019
The villagers protesting have demanded that the people responsible for vandalising the statue be arrested at the soonest. The police have assured the protestors that a new statue will soon be erected and those behind the incident arrested.
The growing incidents of 'Father of the Indian Constitution' Dr BR Ambedkar's statues targeted by miscreants in the past few days have become a matter of concern for the authorities in Uttar Pradesh. In August this year, three statues of Dr BR Ambedkar were vandalised at three different locations in Azamgarh's Deogaon area.