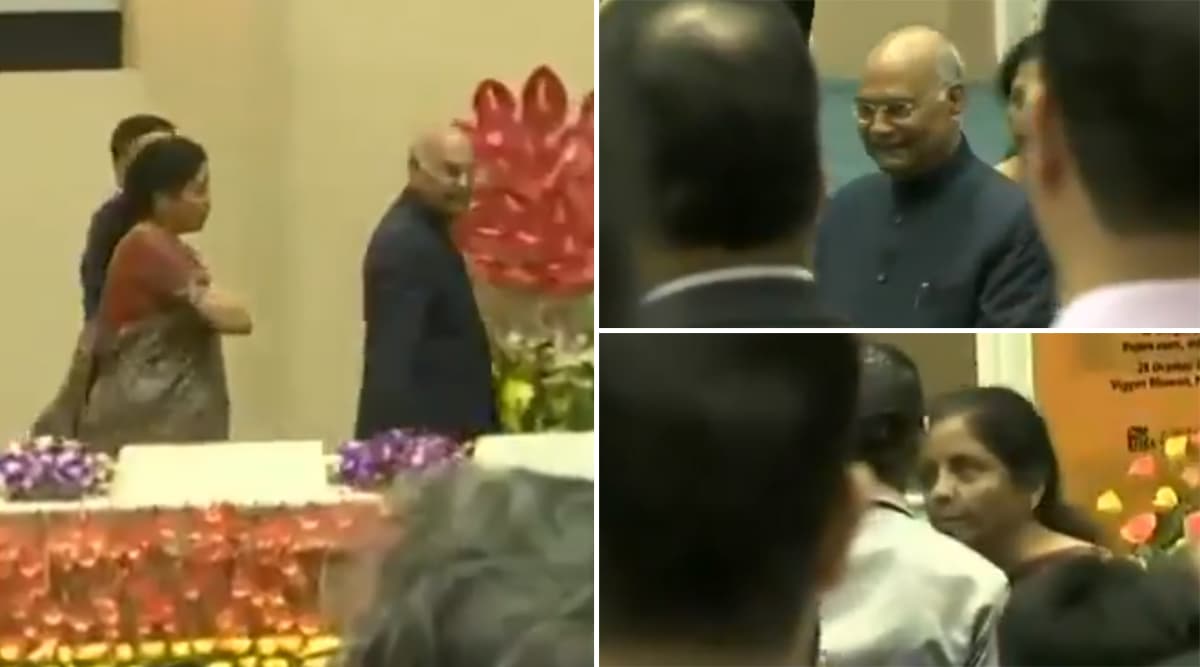 New Delhi, October 29: A woman security personnel collapsed during an award ceremony on Tuesday. The lady fainted for a brief period when the attendees were standing for the National Anthem. President Ram Nath Kovind, Union Finance Minister Nirmala Sitharaman and her junior Anurag Thakur rushed to inquire about the woman's health. A video of the incident was shared by news agency ANI. Nitin Gadkari Falls Unconscious During National Anthem at an Event in Ahmednagar, Maharashtra.
The woman security personnel almost fainted during the National Anthem at the National Corporate Social Responsibility Awards event. The video showed President Kovind, Nirmala Sitharaman and Anurag Thakur leaving the stage as the woman collapsed. They came down the stage and inquired about her health. President Kovind and Sitharaman were seen having a brief chat with the lady who has regained consciousness. TDP MLA Faints During Campaigning in Penamaluru Assembly Constituency.
Woman Security Personnel Collapses During National Anthem:
#WATCH A woman security personnel deputed at National Corporate Social Responsibility Awards event collapsed during playing of National Anthem, today.President Kovind, FM Nirmala Sitharaman & MoS Finance Anurag Thakur came down the stage to inquire about her health. #Delhi pic.twitter.com/HUSvzkizHu

— ANI (@ANI) October 29, 2019
Speaking at the event, President Kovind said that the corporations are helping the nation progress towards the cherished goal of building a more equitable society. "Government is sensitive about the need to calibrate the CSR regime to make it more effective. In September, the scope of the CSR activities was widened to include more categories of research incubators," he said.
"It is important to internalise social welfare in corporate culture. Hence I will also urge upon you to motivate your employees and sensitise them to this higher calling in service of the marginalised sections of society," he added.