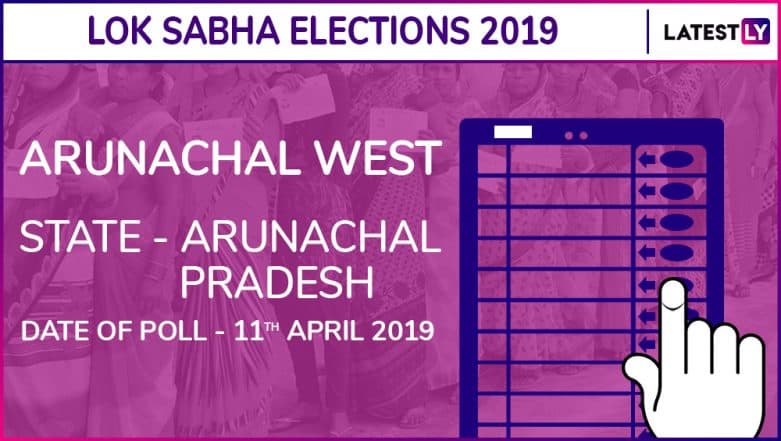 Arunachal West constituency is one of the two Lok Sabha constituency in the state of Andhra Pradesh. Here the election will be conducted on 11th April, 2019 as per Phase 1 schedule. The constituency number of this place is PC No. 1. Areas covered under this constituency are Tawang, West Kameng, East Kameng, Papum Pare, Lower Subansiri, Kurung Kumey, Upper Subansiri and West Siang districts. The results of the Arunachal West Lok Sabha Constituency will be declared today. The counting of votes began on the Parliamentary seat in Arunachal Pradesh at 8 am on Thursday, May 23. Voting took place for the Arunachal West seat in the first phase of Lok Sabha Elections 2019. A total voter turnout of 74.5 per cent was recorded, as per Election Commission of India. Stay with us for Live updates on the results for the Arunachal West Lok Sabha seat in Arunachal Pradesh.  BJP Candidate Kiren Rijiju Elected MP.  Lok Sabha Elections 2019 Schedule: Voting In 7 Phases From April 11 to May 19, Counting And Results On May 23; Check All Dates For General Elections.
Bhartiya Janata Party (BJP) has nominated Shri Tapir Gao, while the Indian National Congress (INC) has chosen Nabam Tuki to compete for the General Election, 2019. The Election Commission has declared March 25, 2019, as the last date of filing on nominations from the seats. Whereas the last date for withdrawal of candidature is March 28, 2019. Lok Sabha Elections 2019 Phase I: List of States And Constituencies Voting On April 11.
Lok Sabha Elections 2019 Phase 1: Schedule, States And Constituencies
The last general election in the year 2014 was won by  Bhartiya Janata Party(BJP) candidate Kiren Rijiju who bagged the total of 1,69, 367 votes. He defeated Takam Sanjoy of India National Congress(INC) by a margin of 41,738 votes. Kiren Rijiju currently holds the position of Union Minister of State for Home Affairs of India.
Lok Sabha Elections 2019 will take place across the country between April 11 and May 23. While voting will take place in seven phases between April 11 and May 19, the General Election results will be announced on May 23.