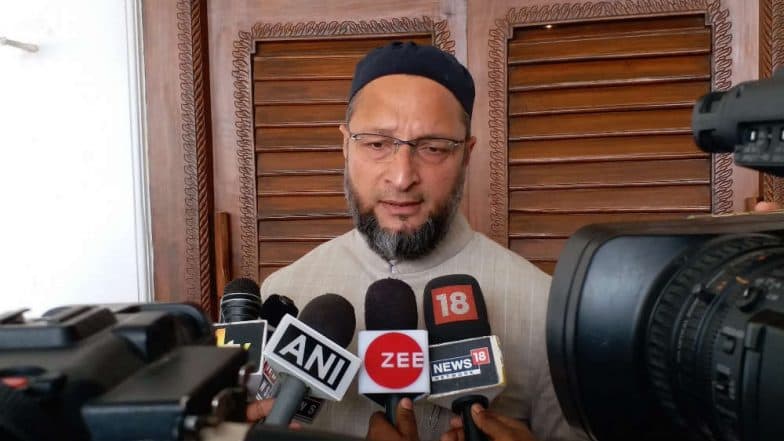 Hyderabad, March 11: AIMIM MP Asaduddin Owaisi on Monday welcomed the Election Commission's decision to hold Lok Sabah elections 2019 during Ramzan. Calling out opposition parties for objecting to voting for Lok Sabha polls during Ramzan period (May 5-June 4, 2019), Asaduddin Owaisi said polling percentage will go up during the holiest month of Islamic calendar. The Hyderabad parliamentarian termed the entire controversy 'unnecessary'.
"This whole controversy is totally uncalled for and unnecessary. I would earnestly request those political parties that please don't use the Muslim community and Ramzan for whatever reasons you have," Owaisi said. "Muslims will definitely fast in Ramzan. They go out and lead a normal life. My analysis is that this month (Ramzan) will lead to more voting percentage because one will be free from all worldly duties," the AIMIM MP added. Check Full Schedule of Lok Sabha Elections 2019.
Ramzan, observed by Muslims as a month of fasting, will coincide with the seven-phase election schedule. Trinamool Congress (TMC) leader and Kolkata Municipal Corporation Mayor Firhad Hakim said dates for Lok Sabha elections are clashing with Ramzan period. Firhad Hakim said the lengthy schedule of the upcoming Lok Sabha polls, will be arduous for those observing Ramzan in the states of Bihar, West Bengal and Uttar Pradesh.
"People will face problems in exercising their voting rights as some poll dates are clashing with Ramzan. Since the Election Commission is a constitutional body, I don't want to comment much into the matter. But they should have considered that people will suffer during Ramzan (in casting votes)," the TMC leader said. "EC has announced the poll dates on Ramzan so that minorities are unable to cast their votes. But we aren't worried. People are committed to BJP Hatao, Desh Bachao," he added. Assembly Bypolls in Tamil Nadu, Bihar, Goa & Other States to be Held Simultaneously With Lok Sabha Elections.
Earlier on Sunday, the Congress had alleged that the Election Commission wanted to announce the dates for Lok Sabha election on March 4 but delayed it due to the inauguration programmes of Prime Minister Narendra Modi. The Election Commission on Sunday announced the schedule for Lok Sabha elections 2019. The dates for the seven phases are April 11, April 18, April 23, April 29, May 6, May 12 and May 19. Counting of votes will be done on May 23.