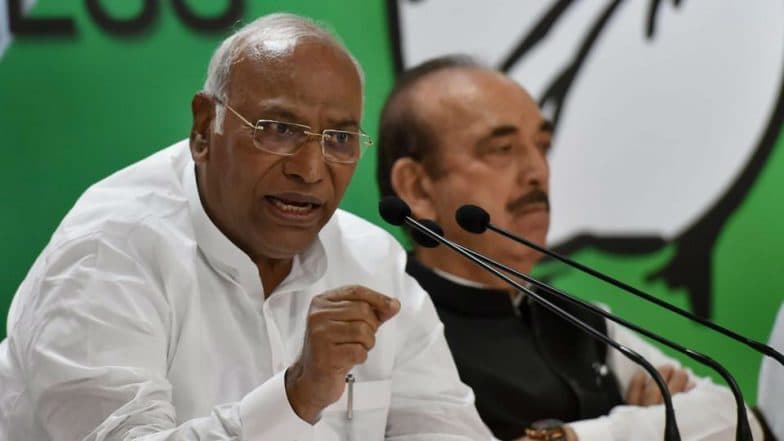 Kalaburagi, February 9: Senior Congress leader Mallikarjun Kharge alleged that the "frustrated" Bharatiya Janata Party (BJP) wants to topple the Karnataka government "by any means." The comment comes a day after Karnataka Chief Minister HD Kumaraswamy released an audio clip in which state BJP president BS Yeddyurappa is purportedly trying to lure a JD(S) MLA.
Kharge asserted that despite BJP's alleged attempts in dislodging the government, the ruling coalition would remain strong. "Everything has come out. They (BJP) are frustrated. They want to pull down Congress and JD(S) coalition government by any means. But our MLAs are strong and the government would remain strong," he told ANI. What Hitler Did in Germany, PM Modi Wants to do in India: Congress' Mallikarjun Kharge.
Mallikarjun Kharge, Congress on audio clips released by Karnataka CM y'day: Everything has come out. They (BJP) are frustrated.They want to pull down Congress&JD(S) coalition govt by any means.But our MLAs are strong & the government would remain strong. Nobody can do anything pic.twitter.com/6DC7PpOBAI

— ANI (@ANI) February 9, 2019
Just a few hours before presenting the state budget in the Karnataka Assembly on Friday, Kumaraswamy had held a press conference and told media persons about the audio clip while targeting Prime Minister Narendra Modi over the same. Launching a fresh attack on the BJP over charges of horse trading in Karnataka, the Congress on Saturday alleged that Yeddyurappa had offered a total of around Rs 200 crore to 18 of its MLAs, in an attempt to destabilise the ruling coalition in the state.
Congress leaders KC Venugopal and Randeep Singh Surjewala alleged that Yeddyurappa offered Rs 10 crore per MLA and Rs 50 crore to the Speaker.Meanwhile, Kumaraswamy on Friday removed dissenting Congress MLA Dr Umesh Jadhav from Warehouse Corporation chairmanship and replaced him with Pratap Gowda Patil. Furthermore, Congress MLA from Raichur Basanagouda Daddal has been appointed as the chairman of Maharshi Valmiki Scheduled Tribes Development Board.