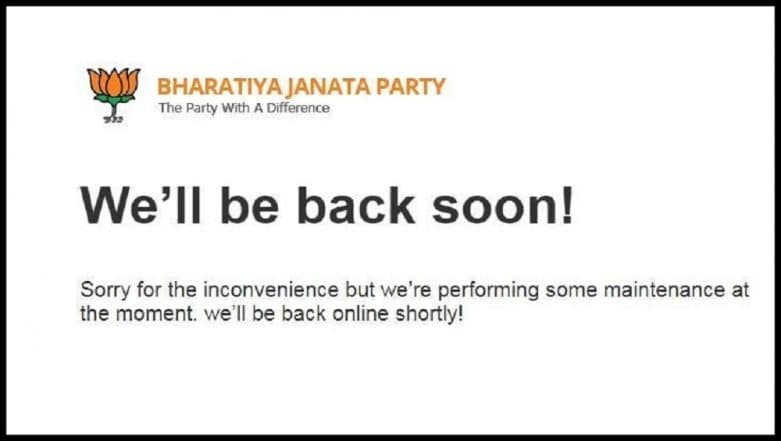 New Delhi, March 12: The Bharatiya Janata Party (BJP) official website www.bjp.org continues to be 'under maintenance' for the twelfth straight day after it was reportedly hacked on March 5. The BJP site has been down for maintenance ever since the hack was reported and there has been no word from the party as to who is behind the hacking or when would the website by up and running. "We'll be back soon! Sorry for the inconvenience but we're performing some maintenance at the moment. we'll be back online shortly," says the message on the homepage of the BJP site, even as Lok Sabha Elections 2019 dates have been announced and voting will take place from April 11. BJP Website Hacked; Abusive Words, Error Message Appear on www.bjp.org.
French vigilante hacker Elliot Alderson, who had exposed the flaws in the Aadhaar system, took a dig at the BJP for their site being down. "I found who hacked the BJP website. It's Nehru," he wrote on Twitter. Why Hacked BJP Website Is Not Up Yet.
French hacker's tweet on BJP website
I found who hacked the @BJP4India website.

It's Nehru 😂

— Elliot Alderson (@fs0c131y) March 12, 2019
Before Alderson, the Congress, too, had taken a dig at the BJP, asking if they needed any help with bringing the website back. "Morning BJP, we realise you've been down for a long time now. If you need help getting back up, we're happy to help," the Congress party had written on Twitter.
On the day when the BJP website was hacked, its home page was also showing some abusive words. In no time, social media users had started circulating messages saying the BJP website was hacked. The home page also carried a video mocking Prime Minister Narendra Modi.
"Looks like BJP is redesigning the whole website as not only the database but the entire backup is also gone - only if the daily backups were being done in the first place - hence it is taking so long for them to up the website again," Manan Shah, Founder and CEO, Avalance Global Solutions, told IANS.
Earlier last month, the Gujarat Congress website was also hacked with inappropriate content posted on it. The Chhattisgarh BJP website was also reportedly hacked.