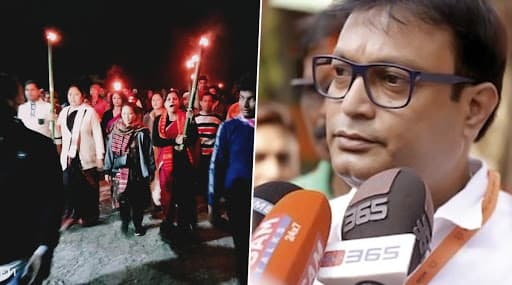 Guwahati, December 12: Marking his dissent against the Citizenship Amendment Bill (CAB) 2019 moved by the BJP-led Centre, Assamese actor and politician -- Jatin Bora -- submitted his resignation from the party. He is the second actor-turned-politician in Assam after Ravi Sharma, who resigned from the party following protests against the Centre's move immediately after the CAB 2019.
Jatin Bora, also the chairperson of the state-run Assam State Film Finance Development Corporation, had extended his support to those protesting the bill. Earlier, renowned Assam singing sensation Zubeen Garg had also appealed Bora to resign from BJP as a protest. Garg had stated that had he been in Bora's position, he would have resigned. CAB Passage Jolts Northeast: Why Assam and Neighbouring States Are Up in Protest Against Citizenship Amendment Bill.
Replying to the appeal of Garg, Bora had said, as reported by News Nation, My language (Assamese) and my culture (Assamese) is everything for me. Whatever I am today is all because of the people of Assam. I respect each and every stand of the Assamese people taken in a bid to safeguard the community, its land, language, and culture."
On leaving the BJP, Bora had said, "The government should take steps to discuss issues concerning the bill before coming to any conclusion. I did not join the BJP for political benefits but to improve the Assamese film industry."
It is to be known that BJP-led Central government managed to pass the controversial CAB 2019 in Rajya Sabha on Wednesday, amid the massive uproar. Following this, protests became violent in Assam, and protesters set ablaze two railway stations. Also, they attacked the house of Assam Chief Minister Sarbanada Sonowal.