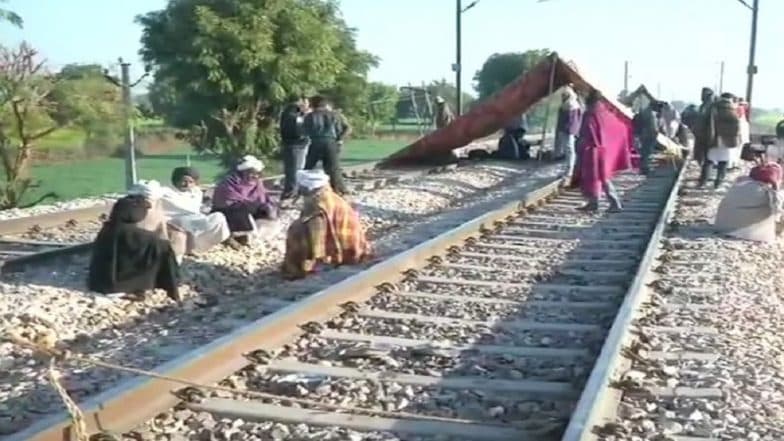 Jaipur, February 13: Hours after the Congress-led Rajasthan government tabled the five percent reservation for communities like Gujjars, Raika-Rebari, Gadia Luhar, Banjara and Gadaria in the state Legislature, it was passed with a two-thirds majority amid chaos from the opposition leaders. With this, the five-day quota stir, called by Gujjar leader Kirori Singh Bainsla, has ended.
Earlier, CM Gehlot assured the protesters of communities from Gujjar, Raika-Rebari, Gadia Luhar, Banjara and Gadaria that their demands have been taken into account and full justice would be imparted. According to the information, the quota bill – introduced in the state legislative Assembly – pushed the current 21 percent reservation to 26 percent in the OBC category. Under this, five percent includes the quota for Gujjars and other four communities. Gujjar Quota Stir Intensifies in Rajasthan, Train Service Hit, Internet Shut In Sawai Madhopur Till February 13.
Here's the tweet by Ashok Gehlot:
हमने विशेष योग्यजनों के लिए सरकारी सेवाओं में आरक्षण 3% से बढ़ाकर 4% कर दिया है। हमारी सरकार विशेष योग्यजन, विधवा एवं एकल नारी पेंशन राशि में भी शीघ्र बढ़ोतरी करेगी।

हमने किसानों को वृद्धावस्था पेंशन देने का अभूतपूर्व कल्याणकारी फैसला लेकर एक अभिनव पहल की है। #Rajasthan

— Ashok Gehlot (@ashokgehlot51) February 13, 2019
On Wednesday, the police had to lathi charge on the protesters seeking reservation for the Gujjars in Gorai area of Jaipur-Sikar highway. Initial reports state that on the sixth day of protests, the agitating mob turned violent and blocked the Jaipur-Sikar highway due to which the commutation was disrupted. Soon after the reports, the police reached the spot and lathi-charged on the protesters.
The Gujjars and the other four communities seeking five percent quota in jobs and education had brought the state movement to a standstill and to end the impasse, Chief Minister Ashok Gehlot tabled the reservation bill in the state Assembly. This is the same bill that was introduced in the Assembly by the previous Vasundhara Raje government, and no changes have been made onto it, say sources. Currently, the Bill is being discussed amid a lot of chaos in the Assembly.
It is to be known that the Gujjars in Rajasthan have blocked the railway tracks, due to which over 250 trains were cancelled or diverted. On Monday, the protesters, under the leadership of Gujjar Arakshan Sangarsh Samiti chief Kirori Singh Bainsla, protesters blocked National Highway-11, which connects Jaipur with Agra. Same happened in Dholpur district, and the administration was forced to impose prohibitory orders under CrPc section 144. However, Gujjars had given a 20-day ultimatum to the state government to clear its stand on providing the quota.