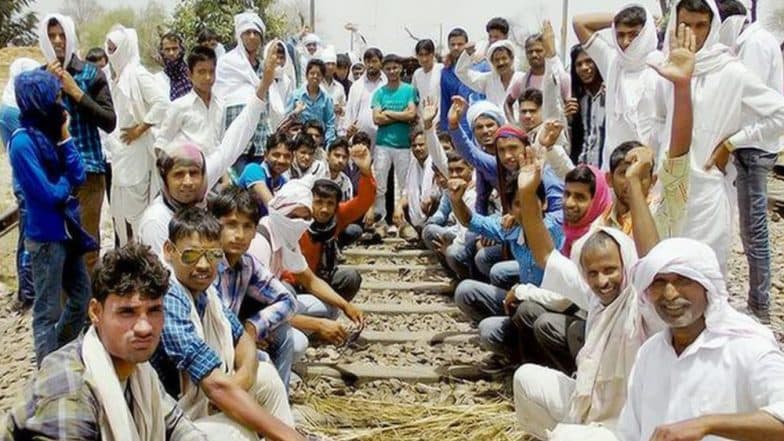 Jaipur, February 12: The Gujjar community agitation in Rajasthan demanding five per cent quota in jobs and education intensified further and entered the fifth day on Tuesday. Internet services will remain suspended in Sawai Madhopur district till February 13 in wake of ongoing protests. On Tuesday, nearly three trains were cancelled and two trains were diverted due to protests in Sawai Madhopur. The Gujjar community members began their sit-in began on Friday on rail tracks in Rajasthan's Sawai Madhopur district. The protest has affected the movement of over 250 trains through the region since then.  Gujjar Reservation Protest: 5 Trains Cancelled, 15 Diverted on Delhi-Mumbai Route: Two State Exams Also Postponed. 
Police informed that as a precautionary measure, authorities have imposed prohibitory orders under CrPc section 144 in Dholpur and neighbouring Karauli districts. According to a tweet by ANI, District Collector has also issued a notice to Gujjar leader Kirori Singh Bainsla, asking him to vacate railway tracks.
The blockade by Gujjar Arakshan Sangarsh Samiti chief Kirori Singh Bainsla and his supporters have forced the West Central Railway (CWR) to divert, cancel or partially terminate over 250 trains in the last four days. Rajasthan Govt Issues Circular Mandating 1% Reservation For Gujjars, Four Other Communities Under MBC Category.
Take a look at the tweet:
Rajasthan: 3 trains cancelled & 2 trains diverted due to ongoing #GujjarReservation protests in Sawai Madhopur district. https://t.co/jsQm5LZOgB

— ANI (@ANI) February 12, 2019
Protesters blocked National Highway-11, which connects Jaipur with Agra, in Rajasthan's Dausa district on Monday. On Sunday, the protest had turned violent when shots were fired and police vehicles were torched in Dholpur district, forcing authorities to impose prohibitory orders under CrPc section 144 in Dholpur and Karauli districts. It still remains in force in the areas. Gujjar Reservation Protest: Seven Trains in Kota Division of Western Central Railway Diverted, 1 Cancelled.
Bainsla is demanding 5 per cent quota for Gujjar, Raika-Rebari, Gadia Luhar, Banjara and Gadaria communities in jobs and education and has refused to clear the railway tracks. As of now, the five communities are getting one-per cent separate reservation under the most-backward category in addition to the Other Backward Class. The Gujjars had given a 20-day ultimatum to the state government to clear its stand on providing the quota.