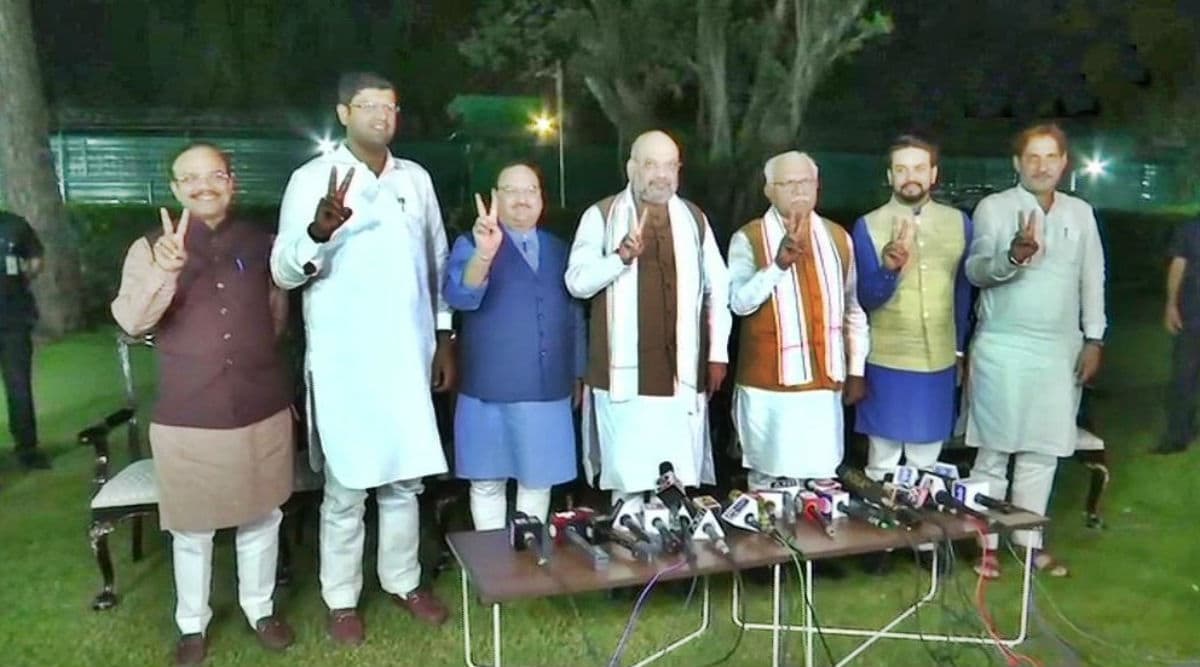 New Delhi, October 25: Bharatiya Janata Party (BJP) president Amit Shah on Friday announced an alliance with Dushyant Chautala's Jannayak Janata Party (JJP) to form a government in Haryana. Addressing a press conference, Amit Shah said that the BJP will keep the chief ministerial post, while deputy chief minister's post will be given to the JJP. Incumbent Haryana Chief Minister Manohar Lal Khattar said that the party will meet Governor on Saturday to stake a claim to form government. 75% Jobs For Haryana Locals, Old-Age Pension Common in Congress, JJP Manifesto: BS Hooda on Dushyant Chautala's 'Preconditions'.
"The two parties have decided to form the government to respect the mandate of the people. It has been decided that the Chief Minister will be from the BJP and the Deputy CM from the JJP," Shah said. On his part, Dushyant Chautala said that his party has decided to support the BJP "for the stability of the government in Haryana". It seems likely that Dushyant Chautala will be the new Deputy Chief Minister of Haryana.
The BJP, with 40 seats, was trying to form an alliance with eight independents to form the government. The JJP, which is less than a year old, won 10 seats. Eight independents have reportedly pledged their "unconditional support" to the saffron party led by Manohar Lal Khattar. However, the party leadership was keen to have Dushyant Chautala on board.
The JJP fought a bitter campaign on the Jat plank, targeting the BJP. The Congress won 31 of 90 assembly seats and is trying to woo JJP and independents to form the government.